Blog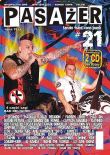 Nowy numer najbardziej naładowanego punk rockiem magazynu w Polsce, wkrótce kopnie swoimi ciężkimi glanami (lekkimi trampkami?) Wasze drzwi! Strzeżcie się!
"Pasażer # 21" to większa objetość stron, więcej treści, więcej muzyki! Tym razem 144 strony i aż dwie płyty CD (w tym jedna to muzyka kapel, jakie przedstawiamy na łamach nowego numeru). Więcej się już po prostu nie da!
Nadzwyczaj rozważnym głosem przemówią do Was wprost z psychobillowego piekła MAD SIN i z serca nowojorskiego hard core'a - MADBALL. Gorąco polecamy cygańsko-punkową sensację GOGOL BORDELLO. Zaskoczy barwne story o "punkowym rozbójniku" DUANIE PETERSIE - wokaliście HUNNS i US BOMBS, oraz znakomity tekst poświęcony gitarzyście DAMNED znanemu światu jako CAPTAIN SENSIBLE - prawdziwej ikonie świata starego punk rocka. Przypomną o sobie nowojorczycy z H2O.

Przeczytaj więcej