Monty Montgomery (Symarip) na nowej płycie.
2006-02-14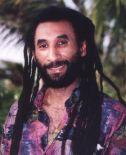 Monty Montgomery to nikt inny jak Monty Neysmith, członek kultowych dla historii reggae (a zwłaszcza dla skinheadów) formacji SYMARIP i PYRAMIDS. Pan ów ma na swoim koncie popełnienie takich hitów jak "Skinhead Moonstomp", "Skinhead Girl", "Back From The Moon" czy "Mexican Moonlight", które (zwłaszcza pierwsze dwa) do dzisiaj wykonywane są przez dziesiątki kapel ska i punk na całym świecie. Całkiem niedawno na album "Talent Zero" swoją wersję "Skinhead Girl" nagrali The Analogs... Płyta ta wzbogaciła zresztą archiwum Monty'ego przeznaczone na płyty zawierające przeróbki jego utworów.
W końcu ubiegłego roku pojawił się na rynku najnowszy krążek "Back To Jump Street". To kolejna z solowych płyt artysty po wydanych wcześniej "Seeds", "Massive Are You Ready" i "Crucial Vibes".
Montgomery urodził się na Jamajce, ale bardzo szybko przeniósł się do Wielkiej Brytanii gdzie uczył się i od wczesnej młodości parał muzyką z takim skutkiem, że dzisiaj jego nazwisko figuruje w książce Guinessa poświęconej brytyjskim hitom singlowym, a Billboard Magazine uznał go za jednego z największych artystów reggae wszechczasów.
Od pewnego czasu mieszka w Stanach i nadal aktywnie tworzy. Muzyka na nowej płycie dowodzi, że zwrócił się bardziej w stronę reggae choć jego twórczość ciągle przesiąknięta jest duchem starych czasów. W utworach tańczą skinhead girls, a punks & skins są przez Monty'ego przywoływani już w pierwszych dźwiękach albumu. W kawałku "Jump" momentami pobrzmiewają echa "Skihead Moonstomp", a w "Laurels For Laurel" znajdujemy hołd dla zmarłego w ubiegłym roku Ojca Chrzestnego Ska – Laurel'a Aitkena. "Wam Bam" to hit na miarę tych sprzed lat, stare skinhead reggae i rocksteady w połączeniu z bardziej nowoczesnym brzmieniem studia i przebojowością bardziej współczesnego reggae. Jest tu też kilka kawałów nieco bardziej miękkich i jeśli ktoś uzna je za dość komercyjne to nie bnależy sie kłócić...

Nowa płyta – choćby ze względu na brzmienie – nie może być porównywana ze starymi nagraniami Symarip czy Pyramids, ale nie sprawi zawodu nikomu kto lubił tamte kapela ani temu kto ma otwarty łeb na fajne jamajskie granie.

Wydawcą jest firma Fusion Records