Blog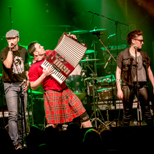 Choć pilska Qulturka jest zespołem z 20-letnią historią to dopiero obecnie zespół zdecydował się na wydanie swojego albumu we współpracy z wytwórnią fonograficzną.
20 letnie istnienie Qulturki to przede wszystkim doświadczenie nabyte podczas szeregu małych i dużych koncertów, obecności na festiwalach oraz dzielenia sceny m.in. z takimi wykonawcami jak U.K. SUBS, Kult, Armia, Pidżama Porno, Strachy na Lachy, The Vibrators, Farben Lehre, KSU, Moskwa, Habakuk, Alians… Nie bez znaczenia jest także fakt, że wokalistów Qulturki usłyszeć można na płycie Strachów na Lachy, wokalistka grupy występowała m.in. z takimi zespołami jak KSU, Farben Lehre czy Ga-Ga Zielone Żabki, a w składzie zespołu odnajdujemy muzyków znanych z innej pilskiej grupy Alians.
Płyta o tytule "EKG" wydana przez Jimmy Jazz Records, jest kolejną muzyczną odsłoną dokonań grupy mocno zakorzenionych w punk rocku, ale czerpiących także inspiracje z pozytywnych i skocznych dźwięków ska i reggae. Album przynosi 11 kompozycji, przy których nie sposób oprzeć się wrażeniu, że...




Przeczytaj więcej