Blog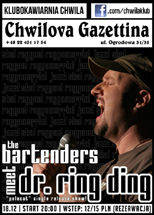 THE BARTENDERS MEET DR. RING DING TO OWOC WSPÓŁPRACY STOŁECZNEJ FORMACJI THE BARTENDERS I GWIAZDY MUZYKI SKA/REGGAE/DANCEHALL Z NIEMIEC – DR. RING-DING'a.

18.12.2011
Klubokawiarnia Chwila
Warszawa, ul. Ogrodowa 31/35
Start: 20:00
Wjazd: 12/15 zł (rezerwacja)

W ramach cyklu THE BARTENDERS MEET… zapraszamy do wspólnych występów znanych i cenionych przez nas wykonawców z różnych kręgów muzycznych. Wśród zaproszonych dotychczas gości znaleźli się między innymi:
-> MARIKA - wokalistka uznawana za królową polskiego dancehallu,
-> ROBERT MAJEWSKI - słynny polski trębacz jazzowy,
-> DANIEL BROMAN - wokalista czołowej formacji ska/reggae z Danii: Babylove & the Van Dangos.
 
DR. RING DING
Dr. Ring Ding (Richard Alexander Jung) to wszechstronny wokalista i puzonista (a także dj, mc, aranżer i producent) - ojciec chrzestny kontynentalnego ska i niekwestionowana legenda niemieckiej sceny muzycznej. Choć znakomicie odnajduje się w wielu gatunkach muzycznych (m.in. swing, rhythm & blues, chanson, hip hop, rumba - soukouss czy punk), najbliższe jego sercu pozostają inspiracje jamajskie: ska, reggae, calypso, raggamuffin czy dancehall.
Jego kariera muzyczna zaczęła się prawie 20 lat temu z zespołem El Bosso Und Die Ping Pongs, potem był liderem Dr. Ring Ding & The Senior All Stars, Kingston Kitchen (w którego składzie znaleźli się również muzycy czołowej europejskiej formacji skajazzowej – Rotterdam Ska-Jazz Foundation). Współpracował z takimi legendami jak Judge Dread, Doreen Shaffer, Dennis Alcapone, Phyllis Dillon, Hopeton Lewis, Derrick Morgan, Lord Tanamo, Bob Andy, King Django, Rico Rodriguez, Laurel Aitken czy Winston Francis. Koncertował w całej Europie, Ameryce Północnej oraz Azji. Był członkiem sekcji dętych tak uznanych formacji jak The Toasters czy legendarnych twórców muzyki ska - The Skatalites (!).
Jako deejay, wokalista i/lub puzonista pojawił się na niezliczonej ilości płyt artystów ska, reggae, rockowych, hip-hopowych, m.in. Stubborn Allstars (US), Soul Kid Click (US), Curse (DE), Adjusters (US), H-Blockx (DE), Toasters (US), Dog Eat Dog (US), Italo Reno & Germoney (DE), Spook & the Guay (FR).
Jako jeden z pierwszych wykonawców w niemczech połączył sceny ska i reggae, otworzył serca wielu ludzi na "pozytywne wibracje" jego ulubionej muzyki. Na niemieckim rynku muzycznym jest obecnie "most wanted", zdobywając odbiorców swymi pełnymi
świadomego przekazu, acz niestroniącymi od ironii tekstami, które zawsze pozostawiają pozytywny ślad.
W Polsce popularność Dra Ring Dinga rośnie z każdym rokiem, wraz ze wzrostem popularności w naszym kraju muzyki inspirowanej dokonaniami twórców jamajskich. W ubiegłych latach artysta dał się poznać publiczności dając sporadyczne występy zarówno w odsłonach soundsystemowych, jak i zarówno formacjami Kingston Kitchen, czy Sharp Axe Band.
Dzięki współpracy z łódzkim Dreadsquadem, która zaowocowała wydaniem w 2010 roku singla "Polish Vodka", artysta zyskuje coraz szersze grono fanów, stając się regularnym gościem w naszym kraju. W maju 2011 ukazał się kręcony na ulicach Warszawy wideoklip do tego utworu, a artysta wystąpił z szeregiem koncertów m.in. na największym festiwalu muzyki jamajskiej w Polsce – Ostróda Reggae Festiwal. W wrześniu ubiegłego roku rozpoczęła się również współpraca Dra Ring Dinga z The Bartenders. Jednym z jej owoców jest utwór POLECAT, który znajdzie się na nadchodzącej debiutanckiej płycie zespołu. Kolejny to projekt THE BARTENDERS MEET DR RING DING, w ramach którego już 18.12 w warszawskim klubie Chwila muzycy zaprezentują publiczności specjalny set najświetniejszych utworów z bogatego dorobku artysty......
Przeczytaj więcej