Blog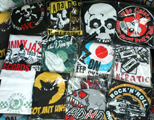 Nasze 25-lecie to oczywiście nie jedyna okazja aby zaproponować wam fajne wdzianko... Tak sami z siebie, bez dodatkowych pretekstów także umiemy coś tam czasem wykombinować, a to co wykombinowaliśmy ostatnio to między innymi….
…. koszulki dla fanów zwierzątek futerkowych pod tytułem "kot"...
Od zawsze wiadomo, że "Ala ma kota"... ale kto wie czy Ala ma z tej okazji jakąś koszulkę?... Jeśli nie ma to teraz jest szansa to nadrobić... Jak znacie jakąś Alę to dajcie jej znać.... żeby nie została na lodzie i nie siała wiochy jak ktoś spyta czemu inni mają o ona nie...
Wychodząc naprzeciw oczekiwaniom fanów, uznaliśmy, że w dobie totalnego oszczędzania, a także totalnego zalewu zajebistych kapel jedyną szansą na spełnienie swoich koszulkowych marzeń jest koszulka uniwersalna.... Taką właśnie rolę spełnia koszulka dla fanów street punka w wersji czarnej, białej oraz męskiej i damskiej.... Od dzisiaj nie trzeba kupować 25 koszulek swoich ulubionych kapel. Wystarczy jeden t-shirt i szybka odpowiedź gdy ktoś zapyta o jaki zespół chodzi... Sprawdźcie sami...
Przeczytaj więcej