Blog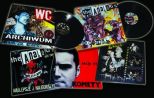 W ostatnich dniach w naszym sklepie pojawiło sie sporo nowych tytułów na płytach CD i wiele pozycji w wersjach winylowych. Zainteresowanych odsyłamy do SKLEPU gdzie pośród nowości znaleźć można m.in. tytuły z dyskografii m.in. DEAD KENNEDYS, PENNYWISE, BAD BRAINS, RAMONES, THE ADICTS, MAD SIN, COCK SPARRER i wielu innych...
Sporo tytułów okresowo niedostępnych pojawiło sie w sklepie ponownie, a wiele dyskografii uzupełniliśmy o nowe pozycje... z myślą o prezentach, które wielu naszych klientów zrobi sobie lub swoim bliskim w najbliższym czasie.
W naszej ofercie znaleźc można coraz większa ilośc wydawnictw z coraz większej ilości wytwórni przy czym szczególny nacisk kładziemy na te z firm, które od dawna staramy sie reprezentować w Polsce. Zwracamy zatem uwagę fanów ska na katalog wytwórni Grover, zwolenników punk rocka i brudnego rock'n'rolla na ofertę People Like You Records, a psycho-rock'n'rollowych maniaków na to co proponuje katalog Crazy Love Records.
Ostatnio także, po dośc długiej przerwie, pojawiły się w naszej ofercie wydawnictwa francuskiej wytwórni Combat Rock z takimi nazwami jak PKRK, TROTSKIDS, CHARGE 69, PARIS VIOLENCE, OXYMORON czy WUNDERBACH...
Radykalnie zwiększyła się nasza oferta winylowa co najlepiej sprawdzić osobiści.........

Przeczytaj więcej