Blog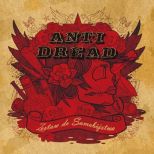 "Zestaw do samobójstwa" to czwarty album jednego z nielicznych polskich przedstawicieli stylistyki punk 77 silnie nawiązującego do klasycznego rock'n'rolla. Grupa nagrała swój najbardziej melodyjny i przebojowy krążek od poczatku działalności wręcz ociekający przebojami, którego głownym atutem - poza porywająca muzyką - są teksty, raz poważne innym razem z przymrużeniem oka, czasem ironiczne, a czasem pouczające, doskonale pasujące do klimatuy muzyki Anti Dread.
Pewne jest, że nowy album odsłania w tekstach bardziej poważne oblicze Anti Dread, nieco odległe od prześmiewczej wizjii damsko-męskiego świata kreowanej na poprzednich płytach.
Zespół złożony częściowo z muzyków związanych z najlepszą krajową, streetpunkową formacją THE ANALOGS i melodic punkowym zespołem ROAD TRIP'S OVER podąża w stronę wczesnej punkowej formy opartej na prostym rock'n'rollowym graniu, w której nie brakuje miejsca dla prostych, przebojowych kompozycji, a określenie "piosenka" nie przynosi im żadnej ujmy, bo "Zestaw do samobójstewa" to tak naprawdę zestaw.... porywających rock'n'rollowych piosenek, jakie na polskiej scenie punk przed Anti Dread nie nagrał jeszce nikt.....
Przeczytaj więcej