Blog
Album "Tu i Teraz" to wciąż gorący materiał warszawskiej grupy The Lunatics, która dba o to aby proces obcowania z fanami nabierał cech coraz wiekszej regularności połączonej z obopólną przyjemnością. Mają temu służyć zarówno premiery kolejnych teldysków grupy jak i spotkania podczas koncertów, ktre przed nami.
Poniżej terminy i miejsca, w których możan zobaczyc i posłuchać The LUnatics na żywo.

26.02.2012 - Skierniewice, Art de Grand
03.03.2012 - Łódź, Luka
04.03.2012 - Poznań, Pod Minogą (+ Criminal Tango + Babilon)
09.03.2012 - Warszawa, 1500, (5 Urodziny Alkopoligamii)....
Przeczytaj więcej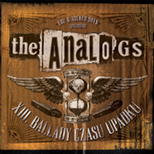 Trzynasty album w dorobku THE ANALOGS, na którym zespoł kontynuuje swoje stylistyczne dokonania będąc niezmiennie od lat sztandarową formacją polskiej sceny punk rockowej nosi tytuł "XIII. Ballady czasu upadku".
Tym razem wydawcą płyty jest firma Lou & Rocked Boys, a premiera albumu będzie miała miejsce 27 lutego 2012 r.
Krażek już w tej chwili zamawiać można w sklepie Jimmy Jazz Records. Wszystkie zamówienia złożone w naszym sklepie przed datą premiery wysłane zostaną najpózniej 27 lutego 2012... dodatkowo każde zamówienie na nowy album THE ANALOGS złożone do 27 lutego 2012 honorowane będzie przez nas gratisowym egzemplarzem albumu "Taniec cieni" w wersji CD.....
Przeczytaj więcej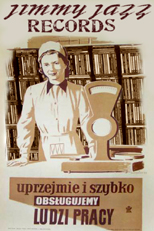 Nic nie może przecież wiecznie trwać... Zatem nasza promocja jest już tylko wspomnieniem, choć nadal jesteśmy gotowi spełniać wasze marzenia i staramy się to robić bez wytchnienia. Koniec promocji nie oznacza końca świata, zatem oferta naszego sklepu jest ciągle do waszej dyspozycji:
- sklep JIMMY JAZZ RECORDS jest czynny 24 godziny na dobę
- niezmiennie zamówienia POWYŻEJ 200 zł wysyłamy NA NASZ KOSZT (przy przesyłkach pobraniowych realizowanych kurierem - GLS - przesyłka free przy zamówieniu powyżej 250 zł)
- niezmiennie wszystko dzieje się w sklepie... Wybierasz, klikasz i dalej wszystko jak po sznureczku... żadnych maili z pytaniem o konto (wszystkiego dowiesz się składając zamówienie w sklepie), żadnych pozycji alternatywnych (wszystko co widać w sklepie wysyłamy od ręki - jak czegoś nie ma to tego nie widać więc nie da się zamówić), żadnych niewiadomych (możesz śledzić losy przesyłki zakładając konto w naszym sklepie)....
Przeczytaj więcej