Redstar 73 - Premiery.
2006-02-25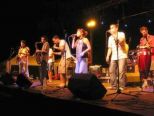 Wytwórnia REDSTAR 73 to nowy projekt na mapie hiszpańskich firm zajmujących sie promocją muzyki ska i reggae.
Label powstał w Hiszpanii ale posiada silne powiązania z rynkiem niemieckim (co zapewne wiąże się ze spora popularnością takiej muzyki w Niemczech).
Mimo krótkiego stażu wytwórnia ma już na koncie 3 niezłe wydawnictwa. Katalog otwiera doskonały, debiutancki album angielskiej formacji PAMA INTERNATIONAL, a także wydane ostatnio dwa krążki grup SHANTY TOWN ("One more last chance") i THE CABRIANS ("Black Momerota").
Obie grupy pochodzą z Barcelony i jej okolic. Shanty Town grają gorący latin-ska-jazz, a uwagę słuchaczy dodatkowo przyciąga głos wokalistki, natomiast the Cabrians - mający za sobą już pięcioletni staż na scenie - uznawani są obecnie za jedną z najlepszych grup grających tradycyjne ska wymieszane z wczesnym reggae.
Ich poziom potwierdzają naprawdę dsokonałe nagrania utrzymane w starym stylu, o którym decyduje nie tylko muzyka ale i produkcja nagrań nawiązująca do starego soundu.
Więcej o zespołach na stronach:
---> SHANTY TOWN
---> THE CABRIANS