Przedsprzedaż premierowych albumów.
2006-02-17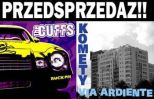 W ramach narodzin nowej, świeckiej tradycji postanowiliśmy wprowadzić, znany w wielu wytwórniach na świecie, zwyczaj przedpremierowej sprzedaży nowych tytułów. Okazja nadarza się sama (a wkrótce będzie ich jeszce więcej) bowiem już 20 lutego premiera handlowa ostatniego albumu KOMET "Via Ardiente" w wersji z angielskimi tekstami.
Tydzień później THE CUFFS pojawią się w sklepach ze swoim debiutanckim albumem "Rock On".. ale u nas już dzisiaj można zamawiać obie płyty (w przyszłym tygodniu dojdzie również - planowana premiera 27 lutego - EMERALD) w specjalnej cenie 20 zł.
Ceny płyt w przedsprzedazy obowiązują do dnia premiery.

W naszym sklepie jeszce do 1 marca trwa specjalna promocja (poznaj szczegóły klikając banner na stronie głównej lub ---> tutaj), jednak w związku ze specjalną ceną tytułów przedpremierowych nie podlegają one zasadom promocji, ale jeśli w zamowieniu znajdą się 2 płyty, a jednąz nich będzie album przedpremierowy, wówczas na drugą płytę dajemy rabat 10%.

Polecamy oba albumy. Trackilsty, sample utworów i MP 3 do ściągnięcia:
- KOMETY "Via Ardiente" (wersja angielska)
- THE CUFFS "Rock On"
- EMERALD "Folk No More"