Blog
Z przyjemnością informujemy, że kilka dni temu za sprawą wydawnictwa Zima dzienne ujrzała książka Darisza Duszy zatytułowana "Jestem ziarnkiem piasku" nawiązując tytułem do jednego z utworów zespołu Śmierć Kliniczna, którego autor był założycielem i wieloletnią podporą.
"Jestem ziarnkiem piasku" to autobiografia tekściarza, muzyka i kompozytora Dariusza Duszy, który po opuszczeniu Śmierci Klinicznej założył punkowy Absurd, a także przez długie lata szalał z gitarą na scenie w zespole Shakin` Dudi. Nagrał kilkanaście płyt, napisał kilkaset tekstów. Wiele z nich weszło do kanonu polskiego rocka, tak jak "Au sza la la la" i "Och, Ziuta" Shakin` Dudiego czy "Malowany ptak" i "Zapal świeczkę" Dżemu. Autor pozostał wierny rock`n`rollowi, nadal tworzy i gra w zespole Redakcja, pisze też teksty piosenek dla wielu znanych wykonawców. Ta książka to więcej niż zbiór anegdot z trasy koncertowej....
Przeczytaj więcej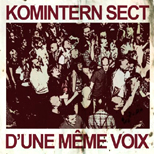 "D'une même voix" to najnowsze wydawnictwo jednej z legendarnych kapel reprezentujących francuską scena punk/oi! pierwszej połowy lat 80-tych ub. wieku. Zespół powstał w Orleanie w 1980 roku i działał aktywnie do 1986 wydając w tym czasie 3 albumy i pojawiając się na wielu składankach we Francji i Europie, m.in. na dwóch częściach kultowych kompilacji "Chaos en France" oraz na składance "Chaos in Europe". Po rozpadzie zespołu okazało się, że jego nagrania są łakomym kąskiem dla muzycznych piratów bo poza tym, że pirackich wznowień doczekały się wszystkie wydawnictwa zespołu to dodatkowo pojawił się on na sporej ilości pirackich składanek wydanych we Francji i poza nią.
Pośród legalnych wydawnictw Komintern Sect z tego okresu wymienić należy wydane na CD albumy składankowe: "Pourquoi tant d'amour?" (1998, Combat Rock), "Les seigneurs de la guerre" i "Dernier combat" (2009, Euthanasie Records) oraz winylowy album koncertowy "Par le feu, par le sang" (Chaos Productions/ Euthanasie Records, 2011)...
Przeczytaj więcej