Nowy numer Pasażera.
2006-02-26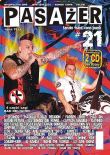 Nowy numer najbardziej naładowanego punk rockiem magazynu w Polsce, wkrótce kopnie swoimi ciężkimi glanami (lekkimi trampkami?) Wasze drzwi! Strzeżcie się!

"Pasażer # 21" to większa objetość stron, więcej treści, więcej muzyki! Tym razem 144 strony i aż dwie płyty CD (w tym jedna to muzyka kapel, jakie przedstawiamy na łamach nowego numeru). Więcej się już po prostu nie da!

Nadzwyczaj rozważnym głosem przemówią do Was wprost z psychobillowego piekła MAD SIN i z serca nowojorskiego hard core'a - MADBALL. Gorąco polecamy cygańsko-punkową sensację GOGOL BORDELLO. Zaskoczy barwne story o "punkowym rozbójniku" DUANIE PETERSIE - wokaliście HUNNS i US BOMBS, oraz znakomity tekst poświęcony gitarzyście DAMNED znanemu światu jako CAPTAIN SENSIBLE - prawdziwej ikonie świata starego punk rocka. Przypomną o sobie nowojorczycy z H2O.
Gratką będzie wywiad z legendą szwedzkiego punka ASTA KASK, weteranem nowojorskiego rock'n'rolla i naszym dobrym znajomkiem KEVINEM K., oraz zespołami WASTED, VITAMIN X, CHILDREN OF FALL, BALLAST, NOVEMBER COMING FIRE, UZ JSME DOMA, MOVEMENT.
Ale to nie wszystko. Jest jeszcze historia OPERATION IVY, niełatwe życie NRD-owskich punkersów pod butem Honeckera, czyli story o SCHLEIM-KEIM. Jest oczywiście drugi odcinek serialu o wiecznie młodych 7 SECONDS. Z dumą prezentujemy też, czwartą już część sagi BAD RELIGION. To bez wątpienia gwóźdź tego numeru. Zgodnie z obietnicą w #21 dużo więcej niż poprzednio polskich kapel. Duży materiał o niewidzianych na naszych łamach od ponad 12 lat FARBEN LEHRE, a oprócz tego SUPER GIRL AND ROMANTIC BOYS, LENIWIEC na trasie po Finlandii, KONIEC ŚWIATA, GAGA, PROFANACJA, KOMETY, DHM, EL BANDA, ANTI DREAD, ALIANS, BOMB THE WORLD, sound systemowy w formie, ale punkowy duchem RWR BABILON ERROR i melodyjno-kalifornijska sensacja CF98.
O najważniejszych płytach swojego punkowego życiorysu opowiedzą Bromba z Upside Down i Piguła z Analogs.
Nowy numer Pasażera wkrótce w naszym sklepie.