Blog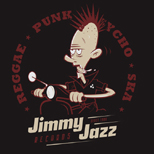 Lato jeszcze nas nie rozpieszcza choć już kilkakrotnie zaatakowało z przyczajki udowadniając, ze dobrze jest mieć na podorędziu jakiś zgrabny t-shirt, którym we właściwym momencie można zadać szyku....
Dbając o to abyście - niczym drogowcy zimą - nie zostali zaskoczeniu upałami przypominamy o sporej ilości koszulek, które w naszym sklepie są do waszej dyspozycji...
Aby nieco uatrakcyjnić ofertę koszulkową jak co roku proponujemy kilka nowych wzorów. Część z nich jest już dostępna o czym możecie przekonać się sami odwiedzając sklep, a szczególnej uwadze polecamy nowy wzór koszulki z nazwą wytwórni Jimmy Jazz Records, która - co tu dużo gadać - fajna jest (i wytwórnia i koszulka of kors ;-)).
To oczywiście nie wszystko co chcemy wam zaproponować jeśli chodzi o nowe wdzianka, ale na kolejne wzory musicie trochę poczekać, a ponieważ jest w czym wybierać to sugerujemy oczekiwanie umilić sobie zakupami....
Przeczytaj więcej