Niezależna Scena Mazowsze
2006-02-23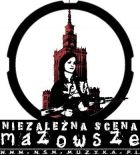 Ruszył na dobre internetowy portal Niezależnej Sceny Mazowsze skupiający pod swoimi skrzydłami zespoły z Mazowsza oraz wszytskich związanych z muzyką niezależną (kluby, radia itp).
Jeżeli twój zespół/klub/radio jest już na stronie NSM, wówczas administratorzy strony w załączonym pliku wysyłają materiały promocyjne Niezależnej Sceny Mazowsze (nowego partyzanta, a dokładniej partyzantkę, plakat promujący portal, bannery) w celu jak najszerszego rozpromowania przedsięwzięcia.
Jeżeli twój zespół nie dołączył jeszcze do Niezależnej Sceny Mazowsze, to niech zrobi to teraz! Wyślijcie do NSM swoje logo, zdjęcie, demko oraz notatkę o sobie.
Portal chętnie przyjmuje i publikuje informacje o koncertach i wszelkich przejawach aktywności zwiazanych z nim zespołów i tych, które wkrótce dołączą.
Więcej na stronie ---> NIEZALEŻNA SCENA MAZOWSZE