Blog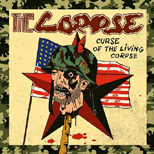 Za sprawą Warsaw Pact Records w ostatnim czasie światło dzienne ujrzały dwa nowe, winylowe wydawnictwa. Pierwsze z nich to winylowa wersja albumu "Drzewa umierają stojąc" krakowskiego zespołu ID. Kapela powstała w 1984 roku i obok Ustawy o Młodzieży i Inkwizycji jest najbardziej kojarzonym zespołem hardcore ze swojego miasta. Sesja zamieszczona na wydanym właśnie winylu to debiutancki materiał grupy, zrealizowana została w 1988 roku w studio "Nowinki" i wydana w Polsce po raz pierwszy w postaci kasety przez firmę Fala w 1991 roku.
Kolejny tytuł to album THE CORPSE o tytule "Course Of The Living Corpse" będący już drugą pozycją zespołu w katalogu Warsaw Pact Records. Materiał zawarty na tym albumie to archiwalne nagrania zawierający najstarsze sesje zespołu.
Oba albumy są już dostępne w naszym sklepie, a poniżej prezentujemy notki wydawcy o obu tytułach...
Przeczytaj więcej