Blog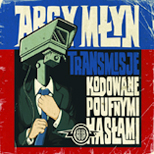 Arcy Młyn to nowa formacja szczecińsko-gryfińska powołana do życia z inicjatywy gitarzysty Michała Zmaczyńskiego w maju 2012. Początkowo był to projekt uboczny, który z czasem przerodził się w regularny skład.
W zespole od samego początku w roli wokalisty i tekściarza występuje lider Kolaborantów - Przemysław Thiele.
W grudniu 2012 Arcy Młyn udostępnił w sieci swoją pierwszą EP-kę wraz z klipem do jednego z utworów. Kolejnym etapem była rejestracja materiału na debiutancki album (wiosna - lato 2013), a jej konsekwencją pojawienie się w marcu 2014 płyty zatytułowanej "Transmisje kodowane poufnymi hasłami" wydanej przez Jimmy Jazz Records. 
Debiut Arcy Młyna to 12 raczej "niespokojnych" kompozycji ubranych w umowne ramy piosenki, przyprawionych niebanalną melodyką i charakterystycznymi tekstami Thielego.
Przeczytaj więcej