NASTY HABITS + KUFLERS + TUBE
2006-02-23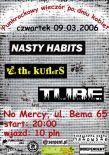 Zapraszamy do No Mercy na Punkrockowy Wieczór po Dniu Kobiet czyli w czwartek 9 marca. Wystąpią 3 zespoły, wszystkie mające coś wspólnego z punk-rockiem, a jednak każdy inny.

Tube gra melodyjną, dynamiczną odmianę HC/Punka. Grupa czerpie muzyczne inspiracje głównie z amerykańskiej sceny HC połowy lat '80. W ich brzmieniu słychać wpływy Bad Religion, Gorilla Bicuits, Descendents czy Social Distortion. Zespół tworzą Carlo – wokal, Le00n – gitara i chórki,
Miki – gitara, Yogi – bas i chórki oraz Andy – perkusja.

Nasty Habits to amerykańsko – polsko – brytyjskie trio, które pojawiło się na warszawskiej scenie zaledwie 4 miesiące temu. Każde z trojga wywodzi się z innego stylu muzycznego. Liderem grupy jest gitarzysta i wokalista Danie i to jego old school'owo punkowe korzenie mają główny wpływ na całość brzmienia zespołu. Grupę dopełnia Crazy Senorita – bas, oraz Mike – perkusja i chórki.

The Kuflers powstali w 2002r i zaczynają być znani w Warszawie i nie tylko. Zespół gra melodyjnego, czadowego punkrocka. Sami lubią określać swój styl jako pub punk. Słychać tu wpływy Ramones, Clash, Buzzcocks czy X-Ray Spex. Skład zmieniał kilkukrotnie, aby osiągnąć w końcu ostateczną formę: Tunia – wokal, Magik – gitara, Ina - bas, Kuba – perkusja, Alex – saksofon i Mateusz na wszystkim po trochu.
Oprócz czegoś dla ucha, nie zabraknie też czegoś dla oka. Obejrzeć będzie można fotografie autorstwa Moniki Jurkowlaniec. Temat wystawy "Squatersi".
Impreza wystartować powinna o godzinie 20:00. Wstęp 10 pln.
09.03.2006 (czwartek)
No Mercy, ul. Bema 65, Warszawa
Start: 20:00
Wystąpią:
- TUBE
- KUFLERS
- NASTY HABITS
+ wystawa zdjęć
Wstęp: 10 pln
More info: CrazySenorita@gmx.net