Blog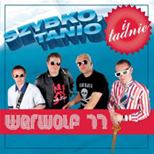 Warszawska oficyna Bad Look Recorde wydała swoją pierwszą pozycję katalogową, którą jest album (również pochodzącej z Warszawy) grupy WERWOLF 77. Krążek zatytułowany "Szybko, tanio i ładnie" to drugie wydawnictwo w historii grupy. Przynosi ono 13 nowych kompozycji zespołu zrealizowanych w latach 2009-2012 podczas trzech sesji nagraniowych w legionowskim Studio MOK Bunkier przez Roberta Szymańskiego (Sex Bomba).
Werwolf konsekwentnie podąża prosta drogą wytyczoną niegdyś na krajowej scenie przez Po Prostu. Pojechane teksty, pojechane rymy, pojechany wokal i muzyka będąca w stylistycznej zgodzie z deklaracją zawartą w nazwie grupy.
Dystans do siebie i otoczenia to jedna z zalet tego krążka. Jeśli komuś przypadł do gustu pierwszy...
Przeczytaj więcej