U.K.SUBS na DVD.
2006-02-26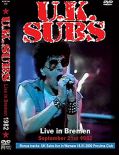 Koncert jednej z najbardziej długowiecznych kapel punkowych - U.K. SUBS - zarejestrowany 21 września 1982 roku w Beat Club w niemieckim Bremen to główna zawartość DVD pt. "Live In Bremen" wydanego ostatnio przez łodzką firmę Noise Annoys.

Zdecydowana większość 45 minutowego DVD to profesjonalnie zarejestrowany set koncertowy z doskonałej jakości dźwiękiem, zawierający kilkanaście utworów, w tym wszystkie największe przeboje grupy z wczesnego okresu działalności takie jak "Warhead", "Emotional Blackmail", "Police State", "C.I.D.", "Stranglehold"' "I Live In A Car", 'left For Dead", "Endangered Species"...

Dodatkiem na płycie jest fragment koncertu U.K. SUBS z warszawskiego klubu Proxima, zarejestrowany 18 stycznia 2000 roku, kiedy to Subs wrócili na trase koncertową w oryginalnym składzie.
DVD zawiera także galerię zdjęć zespołu i info autorstwa Nicky Garratta.
Atutem wydawnictw jest także jego niewysoka cena.
Zainteresowanych odsyłamy do naszego sklepu: ---> DVD U.K. SUBS