Nowe MP 3 w dziale z EXTRAS-ami.
2006-02-17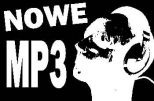 Udało nam sie nadrobić nieco zaległości w uzupełnianiu działu "Extrasy" zatem proponujemy odwiedziny w tej części naszej strony.

W ramach uzupełnień dot. krążków już wydanych udostępniamy 2 utwory z polskojęzycznej wersji albumu KOMET "Via ARdiente". Płyta ta jest już także w wersji z angielskimi tekstami (premiera handlowa 20.02.2006, ale u nas już w sprzedaży), zatem dla równowagi w dziale MP3 do ściagnięcia utwory "Bezsenne Noce" i "Sleepless Nights" oraz "To samo miejsce" i "The Same Place".

27 lutego kolejne premiery Jimmy Jazz. Album The Cuffs już do kupienia w przedsprzedaży, a z Emeraldem ruszamy w przysżłym tygodniu. Już dzisiaj do ściągnięcia próbka dokonań obu zespołów.
W dziale z plikami MP3 The Cuffs w dwóch pełnych utworach "Sin City Rockers" oraz "Lord Of Dark Rhythm" i Emerald w "Życie jak gaz" i "Trzy dziewczyny na A".

Wkrótce kolejne pliki z nowych, przygotowywanych przez nas wydawnictw.