Blog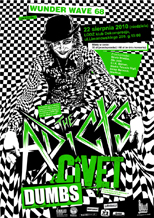 Po doskonale przyjętym koncercie w 2008 roku angielsko-amerykańska grupa The Adicts ponownie zawita do Polski aby wystąpić na 68 edycji Wunder Wave.
Zespół będzie promował swój najnowszy studyjny album "Life Goes On".

Koncert odbędzie się 22 sierpnia 2010 (niedziela) w Łodzi, w klubie Dekompresja, przy ul. Limanowskiego 200 o godz. 19:00.

Bilety w cenie: 50 zł (przedsprzedaż) i 60 zł (w dniu koncertu).

Oprócz The Adicts na scenie pojawią się również dziewczyny z amerykańskiej grupy The Civet oraz Dumbs z Warszawy.

THE ADICTS to jeden z najbardziej rozpoznawalnych zespołów na punkowej scenie. Stylizowani na kumpli Alexa De Large'a z "Mechanicznej pomarańczy" – ubrani na biało w charakterystycznych, czarnych melonikach stali się ikoną punk rocka pierwszej połowy lat 80. Do dziś grają w oryginalnym składzie: Keith Monkey Warren - wokal, Mel Ellis - gitara basowa, Pete Dee - gitara i Kim Dee - perkusja. Nowym członkami zespołu zostali: Scruff (brat Mela) - gitara oraz Dan - skrzypce.
Kariera The Adicts rozpoczęła się w 1975 roku w Ipswich, gdy powstał zespół The Afterbirth & The Pinz. Z czasem zmieniono ją na The Adicts. Ich pierwszym wydawnictwem był singel "Lunch With The Adicts" wydany w 1979 roku przez Dining Out Records w nakładzie 10 000 sztuk. Rok później niezależna wytwórnia Fallout wydała debiutancki album "Songs Of Praise" (w Polsce za sprawą Noise Annoys ukazał się na kasetach). Znalazło się na nim kilka klasyków zespołu, m.in. "Viva La Revolution!", "Just Like Me" czy "Calling Calling". Muzyka zawarta na płycie to melodyjny punk rock bliski dokonaniom The Ramones, Buzzcocks czy Undertones.
W 1982 roku na rynku za sprawą Razor Records pojawił się drugi album "Sound Of Music". Płytę promował singel ze stadionowym klasykiem "You'll Never Walk Alone".
W 1983 roku ukazał się dobrze przyjęty singel "Bad Boy" i potem zespół podpisał kontrakt z Sire Rec. (część koncernu Warner Bros., dla którego nagrywali m.in. The Ramones i Blondie). Efektem współpracy były dwa single: "Tokyo" z 1984 roku oraz "Falling In Love Again" (1985).
W 1985 roku pojawił się album "Smart Alex" wydany przez Razor Records. Repertuar na płycie był zróżnicowany niż w przypadku wcześniejszych płyt......
Przeczytaj więcej