Blog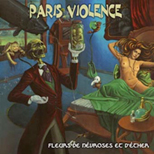 Nowe albumy kapel LES CADAVRES i WUNDERBACH to tylko cząstka oferty winylowej francuskiej wytwórni Dirty Punk Records. Właśnie uzupełniliśmy kilka pozycji, z francuskim punk rockiem, które znikły ze sklepu jakiś czas temu, a jednocześnie wróciły do naszego sklepu inne (niefrancuskie) wydawnictwa tej firmy.
Szczegóły dotyczące oferty winylowej Dirty Punk do przejrzenia w naszym sklepie.
Podobnie przedstawia się sytuacja z winylami amerykańskiej firmy Joe Pogo Records, które powróciły po długim okresie nieobecności... Jeśli ktoś nie zdazył zaopatrzyć się w winyle The Gonads, Klasse Kriminale, Tower Blocks czy przegapił winylowy split tych ostatnich z The Analogs...
Przeczytaj więcej