Blog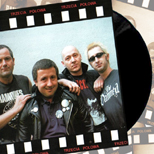 Po wydaniu przez firmę Oligant winylowej wersji albumu "Mechaniczna Pomarańcza", a następnie krążka pt. "Git Rock" przyszła pora na to aby trzeci album RAMZES & THE HOOLIGANS pt. "trzecia połowa" doczekał się wersji winylowej zamykając dyskografię Ramzesa i dając fanom możliwość jej skompletowania w postaci dużych krążków.
"Trzecia połowa" podobnie jak poprzednie płyty wydana została w ograniczonym nakładzie. Tym razem całość wytłoczona została na czarnym winylu 200g w nakładzie 200 sztuk, z których do sprzedaży trafiło tylko 150 egz.
Płyta właśnie pojawiła się na rynku i trafiła także do naszego sklepu gdzie dostępne są także m.in. winylowe wersje albumów "Mechaniczna Pomarańcza" i "Git Rock" oraz inne wydawnictwa firmy Olifant: PO PROSTU - "Demo '86", HORRORSHOW - "Ultra Kuku"....
Przeczytaj więcej