Blog
On Yer Bike to jedna z nielicznych w naszym kraju kapel punkowych nawiązujących w swojej twórczości w prostej linii do brzmienia punk 77. Zespół ma za sobą sporą ilość koncertów w doborowym towarzystwie rodzimej, punkowej czołówki oraz kilka występów u boku zagranicznych formacji takich jak Tower Blocks czy TV Smith.
Debiuancki album pochodzących z Bielska-Białej On Yer Bike wydała niedawno firma Rude Buttons. Krążek zatytułowany "Lustprinzip" zawiera 8 własnych kompozycji zespołu oraz trzy covery... wszystko utrzymane we wspomnianym wcześniej klimacie Punk 77.
Energetyczne i rasowo brzmiące kompozycje zebrane na "Lustprinzip" z pewnością zaintrygują zwolenników wczesnego punk rockowego brzmienia i nie zostawią im wyboru... Album jest już do zamówienia w naszym sklepie....
Przeczytaj więcej
Lato w pełni, a w naszym sklepie oferta koszulek kurczy się i powiększa w zależności od waszego zainteresowania. W ostanim czasie hitem zakupowym w kategorii "T-shirt" stała sie koszulka z nowym wzorem dla fanów ska.
Biały T-shirt z nadrukiem "Keep On Skanking" zdecydowanie podbł wasze serca.... Dostepny jest zarówno w wersji męskiej jak i damskiej w naszym sklepie oraz na naszych aukcjach Allegro.
Tam też znajdziecie nie mniej popularne ostatnio wśród odwiedzających nasz sklep koszulki polo z haftami dla fanów punk rocka i ska, szyte wg naszych własnych wzorów (dostepne są też polówki bez haftów - czyste)....
Przeczytaj więcej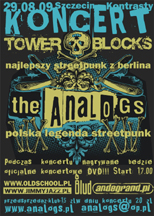 Podczas koncertu, w Szczecinie w dniu 29.08.2009 w Klubie Kontrasty, będzie realizowane full profesjonalne DVD.
Razem z THE ANALOGS, zagrają ich przyjaciele z berlińskiej grupy TOWER BLOCKS i również ten zespół trafi na wspolne DVD obu formacji. Realizatorem filmu będzie firma Mania Studio. Planowana data wydania DVD to grudzień 2009.
Uczestnicy koncertu będą mieli niepowtarzalna okazję aby pojawić się na oficjalnym wydawnictwie The Analogs.
Zainteresowani moga zakupić bilety na tą imprezę w przedsprzedaży w cenie 15 zł.
Chętni spoza Szczecina mogą zakupić bilety wysyłkowo zamawiając je pod mailem analogs@op.pl.
Przeczytaj więcej