Blog
Pierwszą premierą roku 2010 w katalogu JIMMY JAZZ RECORDs będzie nowy, długo oczekiwany album THE ANALOGS zatytułowany "Taniec cieni". Po świetnie przyjętym, poprzednim krążku "Miejskie opowieści" przez ponad rok zespół koncertował ogrywając nowy materiał, aby pod koniec 2009 roku w szczecińskim studio Rapido zarejestrować 13 nowych, autorskich utworów.
"Taniec cieni" bez najmniejszych wątpliwości umacnia The Analogs na pozycji najlepszej, krajowej kapeli streetpunk, której popularnośc już dawno przekroczyła granice undergroundu.
Ponad 80 koncertów, które zespół zagrał od czasu wydania poprzedniego albumu dowodzi pozycji na jaką The Analogs pracowali latami dając fanom 10 albumów i odwiedzając niemal wszystkie miejsca...
Przeczytaj więcej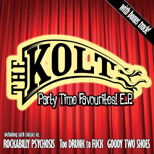 Nadszedł karnawał, szampan się leje, zabawa trwa i z tej okazji zespół The Kolt w odświeżonym składzie nagrał EP-kę, która rozrusza każdy parkiet!
Problemów ze zdobyciem tego "wydawnictwa" nie będzie bowiem grupa zdecydowała się na darmowe udostepnienie nagrań wszytskim fanom i zainteresowanym dokonanami zespołu (Aby pobrać plik z muzyką i coverem kliknij na ikonę kładki w rozszerzeniu wiadomości - pod tekstem!).
"Party Time Favourites EP" to trzy ponadczasowe przeboje w wykonaniu postrachów Mazowsza - "Too Drunk to Fuck" to nic innego jak cover punkowej legendy Dead Kennedys, "Rockabilly Psychosis" ujawnia fascynację nie mniej legendarną formacją - tym razem z kręgu ...
Przeczytaj więcej