Karnawałowa EP-ka KOLTA za darmochę.
2010-01-08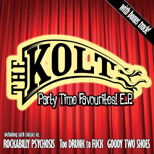 Nadszedł karnawał, szampan się leje, zabawa trwa i z tej okazji zespół The Kolt w odświeżonym składzie nagrał EP-kę, która rozrusza każdy parkiet!
Problemów ze zdobyciem tego "wydawnictwa" nie będzie bowiem grupa zdecydowała się na darmowe udostepnienie nagrań wszytskim fanom i zainteresowanym dokonanami zespołu (Aby pobrać plik z muzyką i coverem kliknij na ikonę kładki w rozszerzeniu wiadomości - pod tekstem!).
"Party Time Favourites EP" to trzy ponadczasowe przeboje w wykonaniu postrachów Mazowsza - "Too Drunk to Fuck" to nic innego jak cover punkowej legendy Dead Kennedys, "Rockabilly Psychosis" ujawnia fascynację nie mniej legendarną formacją - tym razem z kręgu psychobilly - THE METEORS" i "Goody Two Shoes" w oryginale "obciążający" konto ADAMA ANT'a z okresu kiedy zdecydował sie na karierę solową. Oprócz tego w ramach bonusa na EP-ce znajduje się cover "Bad Dreams" z repertuaru P.O.X. będący ostatnim nagraniem z Trolem w składzie.

Materiał - jak zwykle - powstał w pułtuskim studio Tequilla. Utwór bonusowy zarejestrowany został latem ubiegłego roku, a pierwsze trzy utwory w listopadzie i grudniu 2009.

Jak zatem widać The Kolt nie zasypuje gruszek w popiele i przypomina o swoim istnieniu zapowiadając sukcesywne przymiarki do nagrywania kolejnego albumu. Bliższe informacje o zespole i jego planach na profilu ---> Myspace.