"Zestaw do samobójstwa" od ANTI DREAD!!!
2008-09-24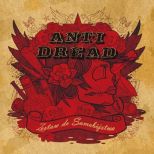 "Zestaw do samobójstwa" to czwarty album jednego z nielicznych polskich przedstawicieli stylistyki punk 77 silnie nawiązującego do klasycznego rock'n'rolla. Grupa nagrała swój najbardziej melodyjny i przebojowy krążek od poczatku działalności wręcz ociekający przebojami, którego głownym atutem - poza porywająca muzyką - są teksty, raz poważne innym razem z przymrużeniem oka, czasem ironiczne, a czasem pouczające, doskonale pasujące do klimatuy muzyki Anti Dread.
Pewne jest, że nowy album odsłania w tekstach bardziej poważne oblicze Anti Dread, nieco odległe od prześmiewczej wizjii damsko-męskiego świata kreowanej na poprzednich płytach.
Zespół złożony częściowo z muzyków związanych z najlepszą krajową, streetpunkową formacją THE ANALOGS i melodic punkowym zespołem ROAD TRIP'S OVER podąża w stronę wczesnej punkowej formy opartej na prostym rock'n'rollowym graniu, w której nie brakuje miejsca dla prostych, przebojowych kompozycji, a określenie "piosenka" nie przynosi im żadnej ujmy, bo "Zestaw do samobójstewa" to tak naprawdę zestaw.... porywających rock'n'rollowych piosenek, jakie na polskiej scenie punk przed Anti Dread nie nagrał jeszce nikt.
Tym razem zespół odstapił od tradycji prezentacji własnych wersji klasycznych punkowych przebojów, stawiając w 100% na autorski repertuar, jednocześnie jeszcze nieco zmiękczając brzmienie, kontynuując tendencje towarzyszące pojawianiu się wczesniejszych albumów. Z pewnością jednak najbliżej nowej płyciwe pod względem brzmienia do poprzedniego albumu pt."Wszyscy jesteśmy lesbijkami"
Już wkrótce utwory: "Cały czas mówiłaś", "Ostatnia podróż", "Zestaw do samobojstwa", "Zraniony kwiat", "Stacja Babilon", "Zatańcz dla mnie"... zadźwięczą nie tylko w uszach starych fanów, ale każdego kto na swojej drodze trafi na "Zestaw do samobójstwa".

Pierwszym singlem promującym płytę będzię piosenka "Cały czas mówiłaś", która wkrótce trafi do rozgłośni radiowych, a już teraz jest do odsłuchania na profilu ---> Myspace wytwórni Jimmy Jazz Records .
Zanim płyta trafi do sklepów można ją zamawiać w naszym sklepie w specjalnej cenie 22 zł.
Zapraszamy!!!
Ten album zwali was z nóg!!!

Zamów płytę ---> CD ANTI DREAD - Zestaw do samobójstwa