Nowy album The Lunatics już dostępny!!!
2008-09-08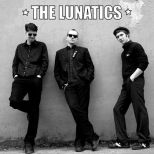 Nasza najbardziej gorąca premiera to nowy album warszawskiej grupy THE LUNATICS pt. "Święci i grzesznicy". Płyta wydana w formacie CD w klasycznym, plastikowym pudełku na naszej stronie dostępna jest do 8 wrzesnia włącznie, w specjalnej cenie przedpremierowej - 22 zł. Poźniej cena wraca do normalnego poziomu wydawnictw JJR, tj - 25 zł.
Do sklepów krazek trafi kilka dni po premierze w sklepie internetowycm Jimmy Jazz Records.
Zainteresowanych zapraszamy do wizyty w sklepie...
Próbkę zawartości płytę poznać mozna odwiedzając nasz profil Myspace oraz profil zespołu.
Drugi album warszawskiej grupy to nowa odsłona The Lunatics, którzy tym razem zrezygnowali z żeńskiego wokalu i angielskich tekstów, klarując także swoje muzyczne rockowe oblicze.
Najnowszy materiał tego punk rockowy tercetu to dwanaście autorskich kompozycji, w tym dwa "spolszczone" covery: nieco niedocenianej u nas formacji Hüsker Du z USA oraz, pochodzącego z Nowego Sadu, zespołu Jedino Rešenje.
"Święci i grzesznicy" to muzyczne wyzwanie dla zwolenników punkowej klasyki w stylu The Clash, The Business, Rancid, wspartego bardziej nowoczesnym podejściem do muzyki w stylu Beatsteaks, czy wreszcie nawiązań do dokonań całej masy znakomitych, punkowych zespołów z terenów dawnej Jugosławii.
Grupa nie kryje swoich inspiracji dając fanom melodyjnego, tradycyjnego punk rocka 12 okazji do sprawdzenia siły oddziaływania nowych kompozycji.
Kup Płytę: ---> THE LUNATICS "Święci i grzesznicy"