Polska wersja CD "The Story Of Komety" juz 18 pażdziernika.
2008-09-24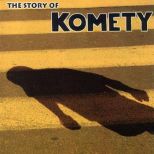 Doskonałe przyjęcie poprzednich albumów "Komety", "Via Ardiente", "2004-2006" i "Akcja v.1" niezbicie dowodzi klasy KOMET, która doceniana jest także poza granicami Polski czego ostatnim dowodem było wydanie na początku 2008 roku albumu "The Story Of Komety" przez meksykańską firmę Esquilo Records i zaproszenie zespołu na serie koncertów w Meksyku i USA.
Meksykańskie wydanie płyty "The Story Of..." zawiera 19 nagrań zespołu i choć głównie w wersjach z angielskimi tekstami, to jednak spotkało się ze sporym zainteresowaniem także w Polsce. Zaowocowało to wspólną decyzją wydawcy i zespołu o oddaniu w ręce krajowych fanów polskiego wydania tej płyty, której zawartość w zdecydowanej części pokrywa się z meksykańskim odpowiednikiem, z tą różnica, że tracklista składa się z utworów w większości z polskimi tekstami.
"The Story Of Komety" to zestaw 20 przebojów Komet stanowiących przekrój dokonań grupy w okresie od wydania w 2002 roku pierwszego albumu pt. "Komety" do chwili obecnej, którego celem jest przypomnienie drogi jaką na przestrzeni ostatnich lat przeszła ta nietuzinkowa formacja, a także umilenie fanom oczekiwania na kolejny album grupy, która już w lutym 2009 roku zaprezentuje się w nagraniach koncertowych i 4 premierowych kompozycjach studyjnych.

Zapraszamy do odwiedzenia naszego działu koncertowego i zapoznania się z terminami najbliższych występów grupy oraz na profil ---> Myspace zespołu gdzie posłuchac można koncertwej wersji utworu "Ostatnie lato XX wieku" zapowiadającego nowy album Komet nagrany na żywo (premiera w lutym 2009).
Sprawdź płyty ---> CD / LP KOMETY