Winyle THE EXPLOITED plus coś dla fanów Motorhead i Creepshow....
2014-06-06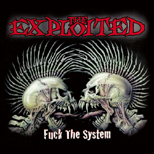 Winylowe płyty THE EXPLOITED "Beat The Bastards" oraz "Fuck The System" wydane przez wytwórnię Nuclear Blast to wersje zrealizowane w postaci dwupłytowych zestawów, na których poza klasyczną zawartością znaną z albumów znajdujemy bonusowe nagrania studyjne i koncertowe. Każdy fan Wattiego i jego kumpli z pewnością doceni te perfekcyjnie wydane krążki dostępne już w naszym sklepie. Oba tytuły ukazały się w okładkach gatefold.

Fani melodyjnego rock'n'rolla i psycho z pewnością powinni zwrócić uwagę na ostatni album CREEPSHOW zatytułowany "Life After Death", który w wersji CD zagościł w naszym sklepie, a wyznawcy talentu Lemmy'ego mają okazje zaopatrzenie się w ostatni krążek MOTORHEAD pt. "Aftershock". Płyta w formacie CD kusi już bardzo przystępną ceną, a my polecamy także inne nowości, które w ostatnim czasie trafiły do naszego sklepu.

Wszystkie nowe pozycje widoczne w dziele NOWOŚCI...
Zapraszamy do sklepu ---> NOWOŚCI