Koszulki z okazji, że nie ma okazji........
2014-06-25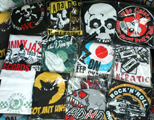 Nasze 25-lecie to oczywiście nie jedyna okazja aby zaproponować wam fajne wdzianko... Tak sami z siebie, bez dodatkowych pretekstów także umiemy coś tam czasem wykombinować, a to co wykombinowaliśmy ostatnio to między innymi….
…. koszulki dla fanów zwierzątek futerkowych pod tytułem "kot"...
Od zawsze wiadomo, że "Ala ma kota"... ale kto wie czy Ala ma z tej okazji jakąś koszulkę?... Jeśli nie ma to teraz jest szansa to nadrobić... Jak znacie jakąś Alę to dajcie jej znać.... żeby nie została na lodzie i nie siała wiochy jak ktoś spyta czemu inni mają o ona nie...


Wychodząc naprzeciw oczekiwaniom fanów, uznaliśmy, że w dobie totalnego oszczędzania, a także totalnego zalewu zajebistych kapel jedyną szansą na spełnienie swoich koszulkowych marzeń jest koszulka uniwersalna.... Taką właśnie rolę spełnia koszulka dla fanów street punka w wersji czarnej, białej oraz męskiej i damskiej.... Od dzisiaj nie trzeba kupować 25 koszulek swoich ulubionych kapel. Wystarczy jeden t-shirt i szybka odpowiedź gdy ktoś zapyta o jaki zespół chodzi... Sprawdźcie sami...
Fani PARTII mają okazję sięgnąć po biały t-shirt z logiem ulubionej kapeli, które dotychczas w naszym sklepie dostępne było w wersji na czarnej koszulce. Postanowiliśmy nieco rozjaśnić rzeczywistość dając fanom zespołu możliwość wyboru.
Przypominamy także, że czerwiec to miesiąc w którym Partia jest bohaterką pakietu specjalnego z okazji naszego 25-lecia (płyty i t-shirt za pół ceny), a informacje o pakiecie są dostępne na stronie głównej naszego serwisu...


Zespół 747 to dość młoda stażem kapela ze Szczecina, choć złożona m.in. z muzyków mających za sobą sporą muzyczną przeszłość. W ostatnim czasie zdecydowaliśmy o naszej współpracy, której efektem będzie debiutancki album 747 planowany na rok 2015. Teledysk do jednego z pierwszych nagrań 747 dostępny jest od pewnego czasu na naszym kanale YouTube gdzie nieźle sobie poczyna, a obecnie proponujemy coraz większemu gronu fanów zespołu koszulkę w wersji biały i czarny t-shirt jako kolejny etap naszej współpracy...

W myśl starej filmowej zasady, że nic tak nie ożywia filmu jak nieboszczyk uznaliśmy, że nic tak nie ożywia koszulki jak czaszka... zatem fani czaszek mają też coś dla siebie, nie musza już szlochać w kącie bo i o nich pomyśleliśmy...  i niech im będzie na zdrowie...


… No dobra, nie mogliśmy oprzeć się pragnieniu zrobienia jeszcze jednego wzoru rocznicowego z okazji naszego 25-lecia… Tym razem podajemy wam na tacy białą koszulkę z grafiką Grzegorza Rikera, którego rysunki ozdabiały przez wiele lat okładki składanek dołączanych do magazynu Garaż….
To nie jedyne wzory jakie dla was mamy w ostatnim czasie... kolejne w drodze, ale zanim się pojawią warto poznać te już dostępne:

Sprawdź ---> KOSZULKI