Koszulki jeszcze raz...
2012-07-12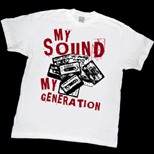 Choć za oknem różnie to bywa to w kalendarzu lato w pełni. Przyzwoitość nakazuje zatem pomyśleć o kilku nowych wzorach na koszulkach, które zaoferować możemy Wam w naszym sklepie.

Po kilku projektach, które przygotowaliśmy w ubiegłym miesiącu obecnie kolejne propozycje.

Warszawskie Komety dbają o to aby fani regularnie otrzymywali t-shirty z nowymi wzorami. Tym razem zespół przygotował wzór na czarna koszulkę w dwóch wersjach kolorystycznych (zielona i zółta) z motywem maski... Jest dostępna także na koszulkach damskich.
Nową pozycją jest również wzór "My Sound - My Generation", który nawiązuje do starych, nieco zapomnianych nośników jakimi są kasety magnetofonowe i zapewne najbardziej przypadnie do gustu tym, którzy początki swojej muzycznej edukacji kojarzą właśnie z kasetami.

Koszulka biała, na razie tylko w wersji męskiego T-shirta, ale wkrótce także na koszulkach damskich i na bokserkach.

Zapraszamy do ---> SKLEPU gdzie do sprawdzenia także inne wzory t-shirtów.