JOKE FERAJNA - najnowsza premiera Jimmy Jazz Records.
2012-07-10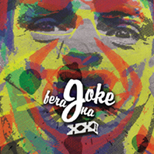 JOKE FERAJNA to przemysko-żurawicka hybryda łącząca ze sobą punkowe zespoły Życie i Zdrajca oraz młodzieżową orkiestrę dętą w Żurawicy koło Przemyśla, która zadebiutowała na scenie zimą 2008 roku wykonując swój pierwszy koncert na żywo przy trzaskającym (-30 stopniowym) mrozie.

Dźwięki JOKE FARAJNA plasują zespół pomiędzy dosadnym, punk rockowym grzmotem na gitarach, wariackim ska, reggae, funkiem i zawadiackim folkiem z pogranicza karczemnych klimatów tzw. Polski B.
Szczególnie charakterystycznym elementem tej muzyki jest bardzo szybkie ska podkreślone partiami sekcji dętej, a folkowy ryt nadaje jej dość nietypowy dla tego rodzaju muzyki akordeon.

Dotychczasowy, koncertowy dorobek grupy stanowią zarówno wielkie imprezy u boku czołówki polskiej sceny rockowej, jak i kameralne, klubowe koncerty na 15 metrach kwadratowych, dzięki którym zespół dociera do coraz szerszej grupy odbiorców, bo czyż nie ciekawie jest spoglądać na 8 szaleńców, którzy biegają z instrumentami po scenie twierdząc, że świetnie się bawią.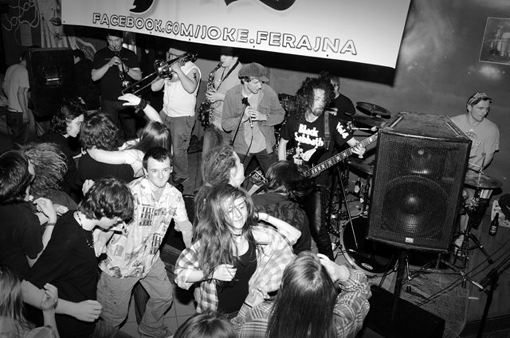 JOKE FERAJNA są laureatem kilku festiwali rockowych, zdążyli też zaznaczyć swoją obecność w prasie muzycznej i mediach. Wzięli udział w programie "Projekt Studio" emitowanym w TVP oraz drugiej edycji programu TV Polsat – Must Be The Music, otrzymując 4 x TAK podczas castingu głównego w Teatrze Roma w Warszawie... odnotowali dotychczas udział w ponad 100 koncertach, doskonale dali się poznać nie tylko lokalnej publiczności, nagrali dwa materiały demo, a obecnie debiutują pełno wymiarowym albumem zatytułowanym "XXI wiek", wydanym przez Jimmy Jazz Records.

Sfera liryczna JOKE FERAJNA jest równie zaskakująca jak sam fakt, że taki zespół gra i ma się dobrze. Mimo punk rockowych korzeni, w tekstach nie ma miejsca dla wyświechtanych sloganów nawołujących do walki ze wszystkim, co się rusza (chyba, że się nie rusza). Sam zespół niejednokrotnie zadaje sobie pytanie "o czym są te piosenki?" i konstruuje je tak aby dotyczyły możliwie najszerszego spektrum życia - takiego zwyczajnego.

JOKE FERAJNA prywatnie to sadownik, kierowca, spedytor, inżynier lotnictwa, historyk, tato, listonosz  tato i miłośnik wszystkiego co radzieckie... a na scenie to muzyczny dynamit i mieszanka stylów, w której największe piętno odcisnęły jamajskie rytmy ska i punkowa energia.




Debiutancki album "XXI wiek" przynosi 13 porywających kompozycji grupy, a pierwszą singlową wizytówka albumu jest utwór "Na stole", do którego powstał także teledysk dostępny już na kanale JimmyJazzTV (YouTube).

Płyta jest juz dostepna w naszym sklepie, tam także do przesłuchania sample wybranych utworow.

Zamów ---> CD JOKE FERAJNA - XXI wiek