WERWOLF 77 - Szybko, tanio i ładnie....
2012-07-24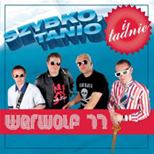 Warszawska oficyna Bad Look Recorde wydała swoją pierwszą pozycję katalogową, którą jest album (również pochodzącej z Warszawy) grupy WERWOLF 77. Krążek zatytułowany "Szybko, tanio i ładnie" to drugie wydawnictwo w historii grupy. Przynosi ono 13 nowych kompozycji zespołu zrealizowanych w latach 2009-2012 podczas trzech sesji nagraniowych w legionowskim Studio MOK Bunkier przez Roberta Szymańskiego (Sex Bomba).
Werwolf konsekwentnie podąża prosta drogą wytyczoną niegdyś na krajowej scenie przez Po Prostu. Pojechane teksty, pojechane rymy, pojechany wokal i muzyka będąca w stylistycznej zgodzie z deklaracją zawartą w nazwie grupy.
Dystans do siebie i otoczenia to jedna z zalet tego krążka. Jeśli komuś przypadł do gustu pierwszy album Warszawiaków to i ten nie zawiedzie. Fani Po Prostu też powinni sięgnąc po to wydawnictwo bo przecież jest... "Szybko tanio i ładnie"....

Tracklista:
1. Poszukiwacze mocnych wrażeń
2. Siły w rencach
3. M jak Międzyzdroje
4. Wysportowani inaczej
5. Dziewczyny z eS eS
6. Wampir w trampkach
7. Ty śpisz (i podatki płacisz)
8. Największy wróg robotnika
9. Do lusterka piję
10. Teściowa na 102
11. Nie przerywaj mi orgazmu
12. C'est la vie
13. Żeby wszyscy byli tacy jak my
ZAMÓW PŁYTĘ ---> CD WERWOLF 77 - Szybko, tanio i ładnie.