Łatamy dziury w katalogu Step-1 Music...
2016-11-14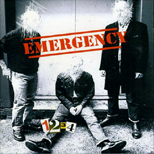 ARGY BARGY, 4-SKINS, ANTI-ESTABLISHMENT, BOOZE & GLORY, EMERGENCY, NOi!SE, THE OPPRESSED, ANTISOCIAL, THE WARRIORS, CONTROL, ON FILE, Oi POLLOi i inni to tylko część reprezentacji wykonawców związanych z angielską wytwórnią Step-1 Music, której najnowsze wydawnictwa oraz sporo uzupełnień trafiło właśnie do naszego sklepu. W gronie wykonawców związanych ze Step-1 Music jednym z najbardziej docenianych przez polskich fanów jest zespół Booze & Glory jednak ich wydawnictwa znaleźć można w katalogach wielu wytwórni zatem sugerujemy zainteresowanym wizytę w naszym sklepie i sprawdzenie oferty także innych wydawców.
Katalog Step-1 Music obejmuje zarówno tytuły wydane na CD jak i wydania winylowe zatem fani ulicznej odmiany punk rocka, z której wytwórnia jest najbardziej znana, z pewnością znajdą coś dla siebie zarówno na CD jak i na winylu...
Zapraszamy do sklepu ---> STEP-1 MUSIC
Sprawdź ---> BOOZE & GLORY