Winylowe albumy The Corpse i ID najnowszymi wydawnictwami Warsaw Pact Records.
2016-11-25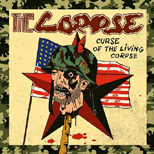 Za sprawą Warsaw Pact Records w ostatnim czasie światło dzienne ujrzały dwa nowe, winylowe wydawnictwa. Pierwsze z nich to winylowa wersja albumu "Drzewa umierają stojąc" krakowskiego zespołu ID. Kapela powstała w 1984 roku i obok Ustawy o Młodzieży i Inkwizycji jest najbardziej kojarzonym zespołem hardcore ze swojego miasta. Sesja zamieszczona na wydanym właśnie winylu to debiutancki materiał grupy, zrealizowana została w 1988 roku w studio "Nowinki" i wydana w Polsce po raz pierwszy w postaci kasety przez firmę Fala w 1991 roku.
Kolejny tytuł to album THE CORPSE o tytule "Course Of The Living Corpse" będący już drugą pozycją zespołu w katalogu Warsaw Pact Records. Materiał zawarty na tym albumie to archiwalne nagrania zawierający najstarsze sesje zespołu.
Kraków uznawany jest za pierwszy ośrodek Hardcore w Polsce, dzięki funkcjonowaniu zespołów ID i U.O.M. Zalążki ID sięgają początków lat 80., kiedy to grupa przyjaciół zafascynowana amerykańskim hardcorem spotykała się w piwnicy w szczytnym celu słuchania interesującej ich muzyki i wspólnego grania. W tym samym okresie inne ośrodki i rodzime kapele wydawały się być bardziej pod wpływem brytyjskiego, skandynawskiego bądź rodzimego punk rocka. Swe pierwsze koncerty zespół zagrał w połowie lat 80, ale na swe debiutanckie wydawnictwo musieli poczekać do 1987 roku, kiedy to ich zarejestrowane wówczas demo wydane zostało przez niemiecką wytwórnię Total Noise Tapes & Records. Właśnie nagrania z tego demo ukazują się właśnie na winylu. Ten całkiem dobrze brzmiący materiał jak na tamte czasy i warunki zawiera 11 utworów, w tym cover amerykańskiego Adrenalin O.D. oraz cztery utwory z tekstami autorstwa Petara z Ustawy O Młodzieży, z czasu kiedy współtworzył on Id w pierwszej połowie lat 80.
Bez tej reedycji historia polskiego Hardcore Punk nie byłaby kompletna. Przypomnienie tego jednego z prekursorskich zespołów hardcore czy hc/punk w Polsce jest absolutnie konieczne!
Do płyty dołączony booklet ze współczesnym wywiadem z zespołem oraz materiałami archiwalnymi. Mastering nagrań Smok w Studio As One.
Płyta zawiera najwcześniejsze sesje zespołu, które jak dotąd nigdy nie zostały opublikowane. Strona pierwsza to materiał z nigdy nie wydanego demo "Curse of the living Corpse" z 1985. Różni się ono nieco od późniejszych dokonań zespołu. Brzmieniowo zbliżone jest do dokonań rodzimych kapel Punk/HC tego okresu z wyraźnym jednak wpływem kapel z Bristolu takich jak Chaos U.K. czy Disorder. Zdecydowanie więcej Punk niż Thrash. Druga strona to sesja z 1987 roku, gdzie nagrano wczesne wersje utworów, które rok poźniej zarejestrowano ponownie na klasyczne demo "Fight against rules". Ten materiał jest już zdecydowanie drapieżniejszy, bardziej dynamiczny i poparty charakterystycznymi riffami. Tu już mamy do czynienia z brzmieniem The Corpse, które sprawiło, że hardcore'owe trampki i bandany stały się normą na koncertach w Polsce pod koniec lat 80.
Płyta ukazuje się w limitowanym nakładzie 425 egz. Kolejnych tłoczeń nie przewidziano.