THE OFFENDERS na nowym albumie "Generation Nowhere" (CD / LP)
2014-02-19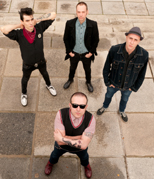 Powstała we Włoszech w 2005 roku grupa The Offenders przez wielu fanów kojarzona jest dzisiaj bardziej z Niemcami, bo tam też kilka lat temu przenieśli się muzycy tworzący od lat jej trzon personalny... Nie zmienia to jednak faktu, że jej korzenie to słoneczna Italia, choć grupa związała się z naszymi zachodnimi sąsiadami, a swój repertuar wykonuje po angielsku... Zespół od momentu powstania doskonale daje sobie radę na (nie tylko) europejskiej scenie ska regularnie wydając płyty i dbając o swój sceniczny wizerunek.
Po wydaniu w październiku 2012 roku płyty "Lucky Enough To Live", bardzo dobrze przyjętej przez fanów, The Offenders skupili się na koncertach odwiedzając po raz pierwszy m.in. Grecję i Rosje... a także odbywając 12-koncertowe tournee po Chinach...

Od 2012 roku zespół związany jest z niemiecką oficyną Destiny, która w styczniu 2014 roku wydała najnowszy album The Offenders zatytułowany "Generation Nowhere". Krążek zawiera 13 nowych utworów, w których starym zwyczajem obok ska pobrzmiewają echa punk rocka, soulu i modsowskich brzmień. Album zawiera utwór "Berlin Will Resist - Riot 87 in SO36" będący także singlem promującym krążek, do którego ponadto nakręcony został video klip.

Fani ska nie powinni przechodzić koło tej płyty obojętnie.
---> CD/LP THE OFFENDERS - Generation Nowhere