THE ADICTS + THE CIVET + DUMBS
2010-08-20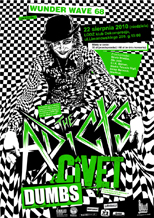 Po doskonale przyjętym koncercie w 2008 roku angielsko-amerykańska grupa The Adicts ponownie zawita do Polski aby wystąpić na 68 edycji Wunder Wave.
Zespół będzie promował swój najnowszy studyjny album "Life Goes On".

Koncert odbędzie się 22 sierpnia 2010 (niedziela) w Łodzi, w klubie Dekompresja, przy ul. Limanowskiego 200 o godz. 19:00.

Bilety w cenie: 50 zł (przedsprzedaż) i 60 zł (w dniu koncertu).

Oprócz The Adicts na scenie pojawią się również dziewczyny z amerykańskiej grupy The Civet oraz Dumbs z Warszawy.

THE ADICTS to jeden z najbardziej rozpoznawalnych zespołów na punkowej scenie. Stylizowani na kumpli Alexa De Large'a z "Mechanicznej pomarańczy" – ubrani na biało w charakterystycznych, czarnych melonikach stali się ikoną punk rocka pierwszej połowy lat 80. Do dziś grają w oryginalnym składzie: Keith Monkey Warren - wokal, Mel Ellis - gitara basowa, Pete Dee - gitara i Kim Dee - perkusja. Nowym członkami zespołu zostali: Scruff (brat Mela) - gitara oraz Dan - skrzypce.
Kariera The Adicts rozpoczęła się w 1975 roku w Ipswich, gdy powstał zespół The Afterbirth & The Pinz. Z czasem zmieniono ją na The Adicts. Ich pierwszym wydawnictwem był singel "Lunch With The Adicts" wydany w 1979 roku przez Dining Out Records w nakładzie 10 000 sztuk. Rok później niezależna wytwórnia Fallout wydała debiutancki album "Songs Of Praise" (w Polsce za sprawą Noise Annoys ukazał się na kasetach). Znalazło się na nim kilka klasyków zespołu, m.in. "Viva La Revolution!", "Just Like Me" czy "Calling Calling". Muzyka zawarta na płycie to melodyjny punk rock bliski dokonaniom The Ramones, Buzzcocks czy Undertones.
W 1982 roku na rynku za sprawą Razor Records pojawił się drugi album "Sound Of Music". Płytę promował singel ze stadionowym klasykiem "You'll Never Walk Alone".
W 1983 roku ukazał się dobrze przyjęty singel "Bad Boy" i potem zespół podpisał kontrakt z Sire Rec. (część koncernu Warner Bros., dla którego nagrywali m.in. The Ramones i Blondie). Efektem współpracy były dwa single: "Tokyo" z 1984 roku oraz "Falling In Love Again" (1985).
W 1985 roku pojawił się album "Smart Alex" wydany przez Razor Records. Repertuar na płycie był zróżnicowany niż w przypadku wcześniejszych płyt.
Druga połowa lat 80. i początek ostatniej dekady XX wieku to spadek formy zespołu, o czym świadczy źle przyjęty album "Fifth Overture". Działalność koncertowa grupy była w tym czasie sporadyczna. Dużym zaskoczeniem dla fanów było pojawienie się płyty "27" za sprawą amerykańskiej wytwórni Cleopatra.
Później Monkey ożenił się i zamieszkał na stałe w Los Angeles, a pozostali muzycy zajęli się realizacją własnych życiowych planów. Pod wpływem nacisków ze strony fanów Monkey postanowił reaktywować zespół i po 10 latach milczenia pojawił się nowy, studyjny album "Rise & Shine", który jest najbardziej różnorodnym i ambitnym dziełem w dotychczasowej dyskografii.
W 2004 roku trafił na rynek album "Rollercoaster" wydany przez amerykańską firmę S.O.S. Records. Dwa lata później The Adicts po raz pierwszy wystąpili w Polsce (klub Ucho, Gdynia).
Dwa lata temu z okazji 25 rocznicy wydania swej debiutanckiej płyty zespół zdecydował się ponownie nagrać swój debiutancki album , który ukazał się pod nazwą "25th Anniversary – Songs Of Praise". Najnowszy album The Adicts pod tytułem "Life Goes On" ukazał się w 2009 roku nakładem niemieckiej wytwórni People Like You.

THE CIVET to najgorętszy żeński zespół punk rock'n'rollowy jaki pojawił się w Los
Angeles od czasów Joan Jett i The Runaways. Jak podkreśla gitarzystka i wokalistka Liza Graves: "Naszym celem jest wydostanie się stąd i udowodnienie wszystkim niedowiarkom , że żeński zespół potrafi grać muzykę i robić to dobrze".
Femme Fatale Punk Rock jaki gra The Civet wzbudził zainteresowanie Duane'a Petersa - wokalisty U.S.Bombs, który zaproponował dziewczynom wydanie płyty w jego wytwórni Disaster Records. W 2005 roku ukazał się album "Massacre" dość ciepło przyjęty przez fanów. W recenzjach często porównywano kwartet z Los Angeles do innych żeńskich kapel takich jak: L7 czy Backyard Babies. W 2008 roku udało im się podpisać kontrakt z szanowaną wytwórnią Hellcat Records dowodzoną przez Tima Armstronga z Rancid. Decyzję o zmianie wytwórni Liza Graves tłumaczy następująco: "Chciałyśmy pozostać wierne wobec naszych punk rockowych korzeni ale pragnęłyśmy również dotrzeć z naszą muzyką do szerszego grona fanów".
Efektem współpracy z nową wytwórnią jest album "Hell Hath No Fury". Nad materiałem zawartym na nowej płycie pracował z nimi wspólnie Tim Armstrong z Rancid jest on również współkompozytorem piosenki "All I Want". Do utworu "Son Of The Bitch" został nakręcony teledysk, który można obejrzeć w serwisie You Tube. Po wydaniu płyty posypały się oferty koncertowe.
W 2009 roku The Civet po raz pierwszy przyjechały do Polski aby zagrać u boku Dropkick Murphys na wysprzedanym koncercie w warszawskiej Progresji.
W lipcu br. dziewczyny ponownie zawitają do Europy na półtora miesięczne tournee.
Jeden z występów na tej trasie zaplanowany jest w Łodzi gdzie wystąpią razem z The Adicts i Dumbs.

DUMBS powstali w 1995 roku a inspiracją dla wspólnego grania była fascynacja dokonaniami The Ramones. To warszawskie trio ma na swym koncie dwa albumy: "Worst Nightmares", który ukazał się nakładem firmy Jimmy Jazz oraz "Rocket From Poland" wydany przez oficynę wydawniczą "Pasażer". Na debiutanckiej płycie znalazły się ich własne kompozycje natomiast na drugiej płycie zamieszczono wersje utworów The Ramones z polskimi tekstami.