Jedna z francuskich legend punk rocka na nowym wydawnictwie...
2016-05-14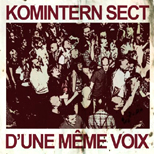 "D'une même voix" to najnowsze wydawnictwo jednej z legendarnych kapel reprezentujących francuską scena punk/oi! pierwszej połowy lat 80-tych ub. wieku. Zespół powstał w Orleanie w 1980 roku i działał aktywnie do 1986 wydając w tym czasie 3 albumy i pojawiając się na wielu składankach we Francji i Europie, m.in. na dwóch częściach kultowych kompilacji "Chaos en France" oraz na składance "Chaos in Europe". Po rozpadzie zespołu okazało się, że jego nagrania są łakomym kąskiem dla muzycznych piratów bo poza tym, że pirackich wznowień doczekały się wszystkie wydawnictwa zespołu to dodatkowo pojawił się on na sporej ilości pirackich składanek wydanych we Francji i poza nią.
Pośród legalnych wydawnictw Komintern Sect z tego okresu wymienić należy wydane na CD albumy składankowe: "Pourquoi tant d'amour?" (1998, Combat Rock), "Les seigneurs de la guerre" i "Dernier combat" (2009, Euthanasie Records) oraz winylowy album koncertowy "Par le feu, par le sang" (Chaos Productions/ Euthanasie Records, 2011).


W roku 2014 zespół reaktywował się po latach uśpienia i choć skład przeszedł drobne zmiany (w 2012 roku zmarł basista Jano) to większość muzyków wywodzi się ze starego składu Komintern Sect, a kapela nadal wykonuje street punkowy repertuar, z którego znana była przed laty, opatrzony często kontrowersyjnymi tekstami o charakterze osobistym nie stroniącymi jednakże od  tematyki społecznej i politycznej.


Najnowszy krążek Komintern Sect to nowe nagrania studyjne legendarnej kapeli wydane wiosną 2016 roku przez niemiecką wytwórnię Contra Records. Płyta ukazała się w formacie CD i jest już dostępna w naszym sklepie.