Danzig - Nowy album 27 listopada.....
2015-11-14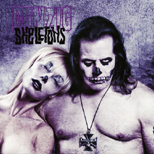 27 listopada światło dzienne ujrzy dziesiąty album Glenn'a Danziga, który tym razem sięga po covery biorąc na tapetę utwory z różnych muzycznych poletek, poczynając od Elvisa Presley'a, Everly Brothers i The Troggs a kończąc na ZZ Top, Aerosmith i Black Sabbath.
Pierwszy singiel z tego albumu "Devil's Angels" ujawniony został w sieci w 2012 roku i grany przez Danziga na koncertach... jest jednocześnie tematem z filmu o tym samym tytule, a oprócz niego na repertuar płyty składa się jeszcze 9 utworów, których listę przedstawiamy poniżej.
Jak zwykle w przypadku wydawnictw Danziga wrażenie robi okładka...Tym razem inspiracją do jej powstania był cover albumu Davida Bovie "Pin Ups", który Danzig określa jako jedną ze swoich ulubionych okładek płyt. Ponieważ nowy album Danziga nosi tytuł "Skeletons" (Szkielety) zatem artysta pojawia sie na niej w makijażu stylizowanym na czaszkę co przytrafia mu się po raz pierwszy od czasu rozstania z Misfits

W wersji winylowej płyta pojawia się z okładką w wersji gatefold, w USA na czarnym i białym winylu. W Europie na czarnym winylu, a do tego w trzech limitowanych seriach:
- na srebrnym winylu (500 szt.)
- marbled - przezroczysty z czarnym (500 szt.)
- splatter - biały z czerwonym (500 szt.)

Wersja CD płyty wydana została w digipaku.

Zamów ---> CD/LP DANZIG - Skeletons

TRACKLISTA
1."Devil's Angels" - 2:41 (Dave Allan & The Arrows)
2."Satan (From Satan's Sadists)" - 4:14
3."Let Yourself Go" - 2:57 (Elvis Presley)
4."N.I.B." - 5:04 (Black Sabbath)
5."Lord of the Thighs" - 4:05 (Aerosmith)
6."Action Woman" - 3:42 (The Litter)
7."Rough Boy" - 4:43 (ZZ Top)
8."With a Girl Like You" - 1:53 (The Troggs)
9."Find Somebody" - 3:48 (The Young Rascals)
10."Crying in the Rain" - 2:44 (The Everly Brothers)

*********************

PREMIERA 27-11-2015
WYSYŁKA W DNIU PREMIERY.

UWAGA!
Limitowane wersje albumu "Skeletons" (silver, marbled i splatter) wydawane są w ilości 500 sztuk z każdej wersji (na cały świat)... co - jak łatwo zauważyć - w przypadku takiego wykonawcy jak Danzig nie jest ilością szokującą i zaspokajającą oczekiwania wszystkich, ale dzięki temu określenie "limit" nabiera właściwego znaczenia i..... wartości dla fanów.
W związku z faktem, że jesteśmy z natury ostrożni i nie bardzo nam się chce wierzyć aby wszyscy zainteresowani sprzedawcy otrzymali taką ilość i rodzaj płyt jaki zamówili (co nas niestety też może dotknąć) informujemy, że gdyby tak się stało to przy realizacji zamówienia na płyty limitowane wysyłamy w pierwszej kolejności to czym będziemy dysponować czyli:
- jeśli zamówisz np. płytę srebrną a my mamy srebrna to taką dostajesz.
- jeśli zamówisz np. płytę srebrna a takiej nie mamy to dostajesz pierwszą limitowana jaką dysponujemy
- jeśli dostaniemy zbyt małą ilość limitów w stosunku do zamówień a domówienie nie będzie możliwe to (ponieważ wszystkie wersje są w tej samej cenie) wysyłamy płytę czarną.

Jeśli nie interesuje cię realizacja zamówienia wg zasad jak wyżej zaznacz to w swoim zamówieniu (w oknie na korespondencję).