Koszulki dla fanów jamajskich dźwięków...
2012-08-16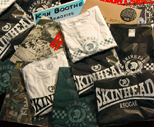 Zgodnie z obietnicą sukcesywnie wprowadzamy do naszego sklepu kolejne partie koszulek. Chociaż ciągle chętnie sięgacie po trzy najnowsze, ostatnio wprowadzone wzory ("My Sound - My Generation", "Rock'n'roll - One Way To Hell" i "Mod Target") to już przygotowaliśmy kolejne...

Tym razem spore pole do popisu mają fani jamajskich dźwięków, a w szczególności Skinhead Reggae. Dwa nowe wzory dostępne są w dwóch wersjach kolorystycznych i na dwóch kolorach koszulek zarówno męskich jak i damskich. Dodatkowo w wersji damskiej proponujemy bokserki oraz koszulki w kolorze khaki.

Wszystkie nowe t-shirty do wglądu w dziale ----> CIUCHY lub w dziale ----> NOWOŚCI.


Niezmiennie zapraszamy do składania zamówień.... Wkrótce kolejne wzory w naszej ofercie.