Ballady czasu upadku - THE ANALOGS - Zamówienia przedpremierowe.
2012-02-07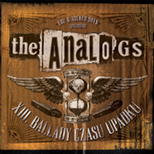 Trzynasty album w dorobku THE ANALOGS, na którym zespoł kontynuuje swoje stylistyczne dokonania będąc niezmiennie od lat sztandarową formacją polskiej sceny punk rockowej nosi tytuł "XIII. Ballady czasu upadku".
Tym razem wydawcą płyty jest firma Lou & Rocked Boys, a premiera albumu będzie miała miejsce 27 lutego 2012 r.

Krażek już w tej chwili zamawiać można w sklepie Jimmy Jazz Records. Wszystkie zamówienia złożone w naszym sklepie przed datą premiery wysłane zostaną najpózniej 27 lutego 2012... dodatkowo każde zamówienie na nowy album THE ANALOGS złożone do 27 lutego 2012 honorowane będzie przez nas gratisowym egzemplarzem albumu "Taniec cieni" w wersji CD.

Płyta ukaże się także w wersji połoczonej CD+DVD, która dostępna jest na stronie zespołu. Dla tych, którzy się na nią nie załapią wydawca przygotował oddzielne wydawnictwo zawierające tylko DVD z zapisem koncertu The Analogs z lubelskiego klubu Graffiti. Premiera płyty DVD także 27 lutego i także ten tytuł można juz zamawiać w naszym sklepie.

Zamów:
CD ---> THE ANALOGS - "XIII. Ballady czasu upadku"

DVD --> THE ANALOGS - "Live Lublin - Graffiti"
*****
THE ANALOGS to zespół wyrastający z tradycji klasycznego punk rock, hardcore i garażowego rock'n'rolla. Od swojego powstania w 1995 roku grają energetycznego i melodyjnego street punka, poruszając niekoniecznie łatwe tematy społeczne. Teksty pisane przez Pawła Czekałę zbliżone są w wymowie do twórczości Charlesa Bukowskiego, Huntera S. Thompsona, czy Huberta Selby Juniora. Na swoim koncie zespół ma koncerty z gwiazdami takimi jak Dezerter, Farben Lehre, Deadline, Angelic Upstarts, The Business i wieloma innymi. Są jedynym polskim zespołem zapraszanym na międzynarodowe festiwale związane z muzyką punk rockową w tym na najważniejszy z nich- berliński Punk & Disorderly.
"XIII. Ballady Czasu Upadku" to trzynasta płyta nagrana przez THE ANALOGS, na której brnące w ciemne i niebezpieczne tajemnice teksty wsparte są doskonałymi kompozycjami duetu Jakub Krawczyk i Paweł Czekała. Całość zarejestrował Krystian Faszczewski z Mania Studio, co gwarantuje, że płyta będzie prawdziwym wydarzeniem na polskiej scenie.