KONCERTOWE DVD ANALOGSÓW
2009-08-05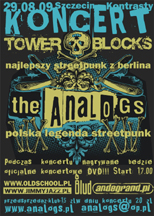 Podczas koncertu, w Szczecinie w dniu 29.08.2009 w Klubie Kontrasty, będzie realizowane full profesjonalne DVD.
Razem z THE ANALOGS, zagrają ich przyjaciele z berlińskiej grupy TOWER BLOCKS i również ten zespół trafi na wspolne DVD obu formacji. Realizatorem filmu będzie firma Mania Studio. Planowana data wydania DVD to grudzień 2009.
Uczestnicy koncertu będą mieli niepowtarzalna okazję aby pojawić się na oficjalnym wydawnictwie The Analogs.
Zainteresowani moga zakupić bilety na tą imprezę w przedsprzedaży w cenie 15 zł.
Chętni spoza Szczecina mogą zakupić bilety wysyłkowo zamawiając je pod mailem analogs@op.pl.