Znowu nam odbiło... Płyty za 9,99 zł....
2011-05-05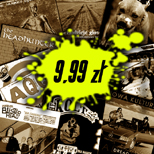 Wszystkich znudzonych ślubami królów, książąt i żebraków, wznoszeniem pod niebiosa, śledzeniem wzlotów i upadków, patriotycznymi uniesieniami, odfajkowywaniem rocznic, świętami -pro i -anty oraz nieszczęsników, którym nie powiodło się z biletami na Euro 2012 zapraszamy na pocieszające zakupy w mega atrakcyjnych cenach, w naszym sklepie internetowym, który jest do dyspozycji wszytskich chętnych przez 24 godziny na dobę...

Zwracamy uwagę na sporą porcję nowych pozycji jakie poajwaiły się w sklepie... Zajrzyj do działu ---> Nowości

Z uporem maniaka, co jakiś czas ("nowa świecka tradycja"), oddajemy do waszej dyspozycji niektóre z tutułów naszego katalogu w ekstremalnie niskich cenach. Tym razem wybór padł na 20 tytułów ze znaczkiem Jimmy Jazz Records, które każdy może przytulić płacąc za każdy krażek histerycznie niską cenę 9,99 złocisza!
Do wzięcia sa warte grzechu płyty takich wykonawców jak Obibox, The Kolt, Pavulon Twist, The HeadHunters, P.D.S. Skarpeta i wielu innych... sprawdzcie sami!!!.
Do promiocji płytowej dorzucamy super ciuchy z firmy Pogo w specjalnych cenach..... bo czasem dobrze jest zadać szyku nie tylko fajna muzyką...
Nie pozostaje nic innago jak skorzystać z okazji, tylko my wiemy kiedy skończy się promocja...

Sprawdź tanie płyty ---> PROMOCJE