Zdjęcia z koncertu BLISTERHEAD i ANALOGS w naszej Galerii.
2005-10-23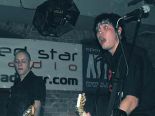 21 października w szczecińskim klubie "Kontrasty" wystąpiła szwedzka grupa BLISTERHEAD (której ostatni album "Via Casilina" wydany został na płycie w Polsce przez Jimmy Jazz Records) rozpoczynając swoją drugą wizytę w naszym kraju. Podobnie jak poprzednio melodyjny punk rock Szwedów przyciągnął do klubu spore grono zainteresowanych posłuchaniem zespołu na zywo. Gości ze Skandynawii wspierali na scenie THE ANALOGS...
W przerwie między występami obu grup zaprezentowany został po raz pierwszy publicznie dokumentalny film o THE ANALOGS autorstwa Moniki Petryczko i Marka Muchy...
Ze Szczecina ba zespoły udały się na mini trasę aby zagrać we Wrocławiu i Łodzi.
Do naszej galerii dodaliśmy właśnie zdjęcia z koncertu w Szczecinie...
Patrz ---> GALERIA