Zdjęcia z POGO FEST vol. 1 dodane do naszej GALERII.
2006-09-03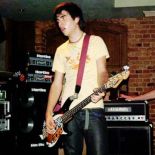 1 września 2006 wklubie Kontrasty w Szczecinie odbyła sie pierwsza edycja imprezy o nazwie POGO FEST, w której zaprezentowało się 6 zespołow. Pięc grup szczecińskich: The Analogs, Vespa, Road Trip's Ober, Beri Beri i Atic oraz 14 Against 5 z Piaseczna.

Koncert połaczony był z promocją wydanego kilka dni wcześniej debiutanckiego albumu Road Trip's Over pt. "Romance On the Phone" (płytę było mozna kupic podczas koncertu) i publiczność tej kapeli w sporej części wypełniła salę klubu.
Zabawa trwała kilka godzin, a impreza skonczyła się koło północy występem Vespy.

Do naszej ---> GALERII dodana została fotorelacja z imprezy. Wszystkich zazinteresowanych odsyłamy do jej obejrzenia.