Zamów już dzisiaj nową płytę THE ANALOGS....!!!
2008-08-05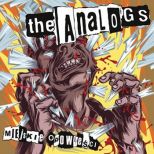 Nowa świecka tradycja nakazuje umożliwianie klientom naszego sklepu zakupy przedpremierowe w specjalnych cenach na kilka dni przed premierą nowych albumów i systematycznie staramy się owej tradycji trzymać. Jak jednak pokazuje życie czasem cierpliwość odbiorców naszych płyt wystawiana jest na próbę, której to próbie cięzko im sprostać i zaczyna się proces nękania wydawcy pytaniami o to kiedy będzie można zamówic nowy tytuł...
Ofiarami takiego nękania jesteśmy od kilku dni głównie w związku z zapowiadaną premierą nowej płyty THE ANALOGS.
"Miejskie opowieści" trafią do sklepów i dystrybucji 22 sierpnia, ale wielu fanom grupy już dzisiaj myśl o nowych nagraniach ich ulubieńców odbiera sen... a oni odbierają sen nam...
Zatem.... wszystkich, którzy chcą już dzisiaj zamówić krążek THE ANALOGS "Miejskie opowieści" informujemy, że mogą to zrobić odwiedzając nasz sklep gdzie zamawiając płytę CD mogą być pewni, że dotrze ona do nich zanim pojawi się w sklepach (nie odpowiadamy za serię ewentualnych sabotaży ze strony Poczty Polskiej).
Płyta w wersji winylowej (LP) będzie rozsyłana najszybciej jak to będzie możliwe. Krążek tłoczony jest zagranicą więc mimo, że nie spodziewamy się opóźnienia to jednak może się ono zdarzyć.

Ceny albumu "Miejskie opowieści" w przedsprzedaży i później:
CD - 22 zł. (cena specjalna obowiązująca do dnia premiery, potem 25 zł.)
LP - 35 zł. (cena specjalna teraz i zawsze)
Zamawiając premierę oczywiwście można ją łaczyć z zamówieniem na pozycje już dostępne, sugerujemy przy tym rzut oka na koszty związane z wysyłką zamówienia... ---> KOSZTY WYSYŁKI
Osoby chcące dokonać wpłaty bankowej za zamówienie przed jego wysłaniem prosimy o kontakt mailowy na adres: orders@jimmyjazz.pl po uprzednim wysłaniu zamówienia za pośrednictwem naszeg sklepu na stronie www.jimmyjazz.pl
Przypominamy, że longplay zawierać będzie jeden dodatkowy utwór pt. "Ulica złamanych snów", który nie znajdzie się na CD.
LP i CD będą tez posiadać różne okładki autorstwa Michała Arkusińskiego... z powodu wspomnianych różnic płyta w naszym sklepie obecna jest jako dwie odrębne pozycje...
ZAMÓW:
---> CD THE ANALOGS "Miejskie opowieści"
---> LP THE ANALOGS "Miejskie opowieści"
Tutułowy utwór z płyty utwór z płyty odsłuchac mozna na naszym profilu MYSPACE.
Dwa utwory znalazly sie na najnowzej części składanki ---> "Prowadź mnie ulico vol. 5".