Wygraj płytę THE KOLT...
2005-12-20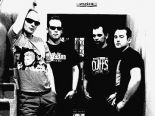 Jeśli jeszcze ktoś nie zaopatrzył się w naszym sklepie w debiutancką płytę pułtuskiej grupy THE KOLT - ostatnią tegoroczną premierę Jimmy Jazz Records - ma taką mozliwość za sprawą konkursu jaki oferuje jeden z medialnych patronów tego albumu.
Wystarczy odwiedzić stronę portalu KORBA i wszystko stanie się jasne.
Zapraszamy zainteresowanych.