Wkrótce premiera nowej płyty KOMET.
2005-07-20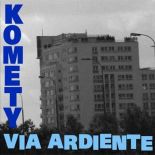 Jest juz gotowa nowa płyta warszawskich KOMET. Album o tytule "Via Ardiente" trafił do sklepów i dystrybucji w sierpniu. Krązek zawiera premierowe kompozycje i prezentuje zespoł w neco innej odsłonie niz ta znana z debiutanckiego wydawnictwa.
Komety, jeden z najpopularniejszych obecnie zespołów alternatywnych, są kontynuacją działającego w latach 1994-2003 warszawskiego zespołu Partia, mającego na swoim koncie cztery albumy: "Partia" - 1998, "Dziewczyny kontra chłopcy" - 1999, "Żoliborz - Mokotów" - 2000, "Szminka i krew" - 2002.) Komety występują w składzie Lesław (głos, gitara, muzyka, słowa), Pablo (bas) i Arkus (bębny).
Podobnie jak wcześniej Partia, Komety stworzyły swój własny styl muzyczno-słowny, będący współczesnym spojrzeniem na początki rokendrolla. Lesław: "Integralnym elementem twórczości Partii i Komet była zawsze obsesyjna fascynacja amerykańską popkulturą, szczególnie tą z lat 50. i 60., ale z perspektywy warszawskiej ulicy. Jednak największym źródłem inspiracji jest popkultura polska".
W październiku 2002 r. na ekrany kin wszedł film "Głośniej od bomb" w reżyserii Przemysława Wojcieszka, w którym Komety zagrały siebie oraz kilka swoich piosenek. W marcu 2003 r. nakładem Jimmy Jazz ukazała się debiutancka płyta Komet, której premiera miała miejsce jednocześnie w Europie Zachodniej i USA. Nagrana w składzie Lesław (głos, gitara), Pleban (kontrabas), Arkus (bębny) nawiązywała brzmieniowo do rockabilly i była pierwszą polską płytą w tym stylu. Lesław: "Nasza debiutancka płyta miała rockabillowe, wczesnoelvisowskie brzmienie, ale to rockabilly zaśpiewane moim własnym głosem".
Po zagraniu paruset koncertów i występach w wielu telewizyjnych programach muzycznych, latem 2004 r. zespół zmienił skład i rozpoczął pracę nad nową płytą. Miejsce Plebana zajął grający na basie Pablo. Druga płyta Komet przewidziana jest na 2005 r. Lesław: "Pożegnaliśmy ostatnio kontrabas i grającego na nim muzyka. Pomysł na płytę rockabillową był na pewno ciekawym pomysłem, ale gdybyśmy nagrali kolejną płytę w podobnym stylu byłoby to i dla nas i przede wszystkim dla publiczności nudne.(...) Nowe piosenki (Komet) to mieszanka muzyki, której ostatnio słuchamy: punka, country, flamenco, garażu, wczesnego soulu. (...) Nie chcemy stać w miejscu i do końca życia nagrywać różnych wersji tej samej płyty".
W lipcu 2005 ukazał się singiel "Miasto turystów" promujący drugą płytę p.t. "Via Ardiente" której premiera przewidziana jest na sierpień 2005.
Piosenki Komet ukazały się na składankach m.in. w USA, Francji, Niemczech, Japonii i Rosji.
W dziale ---> Extrasy do ściągnięcia utór "Miasto turystów" pochodzący z nowej płyty i teledyski zespołu.
KOMETY ---> Koncerty
Więcej o KOMETACH na ---> stronie zespołu.