"Wirus miedzynarodowy" - 15 października premiera najnowszego albumu Kolaborantów....
2016-10-02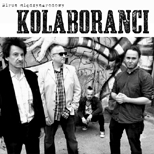 We wrześniu 2012 roku nakładem Jimmy jazz Records ukazał się album szczecińskich Kolaborantów o tytule "Transparenty". Płyta była pierwszym od dłuższego czasu premierowym, studyjnym wydawnictwem zespołu, który po okresie przerwy w roku 2006 powrócił na scenę przypominając się fanom płytą koncertową pt. "My tu stoimy", reedycją debiutanckiego albumu oraz wspomnianym albumem studyjnym.

W połowie 2016 roku Kolaboranci weszli do studia aby zarejestrować swój najnowszy materiał. Premiera płyty o tytule "Wirus międzynarodowy" będzie miała miejsce 15 października 2016, niemal 4 lata po pojawianiu się ostatniego albumu.

"Wirus międzynarodowy" to 12 nowych kompozycji zasłużonego bandu i namacalny dowód jego ciągłej aktywności oraz twórczej konsekwencji. Jak zwykle Kolaboranci proponują fanom nieszablonowe teksty lidera zespołu Przemysław Thiele wsparte potencjałem doskonałych muzyków, którzy w swoich poczynaniach już dawno przekroczyli granicę prostego punk rocka, z którym Kolaboranci niegdyś byli utożsamiani.
Ostatnie albumy Kolaborantów to muzyczna podróż do świata w którym punk rock stanowi jedynie daleki punkt wyjścia a finał wypada w miejscu gdzie hardcore, post punk i alternatywny rock łączą się we wspólnym nurcie.

Kolaboranci już dano odeszli od twórczości lekkiej dla ucha ale nigdy nie zrezygnowali z takiej, której głównym elementem ma być energia, perfekcja i czytelny przekaz. Ciągle stawiają na to, że gust fanów ewoluuje w raz ze zmianami jakie przynosi muzyka zespołu.
Nowy album pt. "Wirus międzynarodowy" zawiera w sobie wszystkie wspomniane elementy i nie powinien zawieść tych, którym dokonania szczecińskiego zespołu z ostatnich lat przypadły do gustu.

Rok 2016 to 30-lecie Kolaborantów, z tej okazji zespół tradycyjnie świętować będzie podczas imprezy o nazwie KOLABONIGHT odbywającej się zawsze w okrągłe rocznice istnienia zespołu. Właśnie podczas tego koncertu, który odbędzie się 15 października 2016 roku w szczecińskim klubie Słowianin będzie miała miejsce oficjalna premiera albumu "Wirus międzynarodowy". Mecenat nad koncertem oraz nową płytą objęło Miasto Szczecin.
Gośćmi Kolaborantów podczas wspomnianego koncertu będą  związana z Jimmy Jazz Records grupa QULTURKA oraz gość specjalny LECH JANERKA.
Nowy album Kolaborantów można już zamawiać w naszym sklepie w dziale z pre-orderami. Zapraszamy!


Szczecińscy Kolaboranci powstali w 1986 roku i przez niemal dekadę byli jednym z tych zespołów, które kształtowały wizerunek polskiej sceny niezależnej. Pierwotnie zainspirowani dokonaniami Dezertera nie byli jedynie naśladowcami szybko wypracowując własny, niepodrabialny styl, zręcznie poruszając się między punk rockiem i hardcore-punkiem, zdobywając sobie uznanie publiczności, której nie wystarczają proste i łatwe piosenki.

Po okresie samodzielnego publikowania własnych nagrań, w okresie 1990-1995 grupa szybko dorobiła się czterech cenionych do dziś albumów wydanych przez firmy Arston, Universal i MTJ. W tym czasie Kolaboranci stali się wylęgarnia muzycznych talentów, a byli muzycy zespołu przewinęli się przez wiele istotnych projektów (Wilki, Albert Rosenfield, Dum-Dum) i do dzisiaj stanowią o wizerunku krajowej sceny rockowej występując w takich formacjach jak Hey, Dezerter czy Indios Bravos. Paradoksalnie fakt ten zaważył na losach grupy, która zawiesiła działalność w 1995 roku.
Zespół wznowił ją w roku 2006 jednak rok później musiał zaprzestać aktywności ze względu na kłopoty zdrowotne Przemysława Thiele, lidera i jedynego oryginalnego członka grupy.

Kolaboranci powrócili ponownie na scenę w roku 2009 zaliczając kolejne udane koncerty i myśląc o tym, aby z jednej strony przypomnieć się swojej starej publiczności, a z drugiej sprowokować zainteresowanie młodszych słuchaczy.

W 2011 Kolaboranci obchodzili 25 lat swojej działalności scenicznej. Z tej okazji wytwórnia Jimmy Jazz Records wydała koncertowy album "My tu stoimy", a zespół wystąpił na jubileuszowym koncercie pn. "Kolabonight". Oba wydarzenia okazały się sukcesem na tyle istotnym, że historia musiała mieć ciąg dalszy. Muzycy weszli do studia nagrywając album zatytułowany "Transparenty".